Preserving with Pomona's Pectin: The Revolutionary Low-Sugar, High-Flavor Method for Crafting and Canning Jams, Jellies, Conserves, and More (Paperback)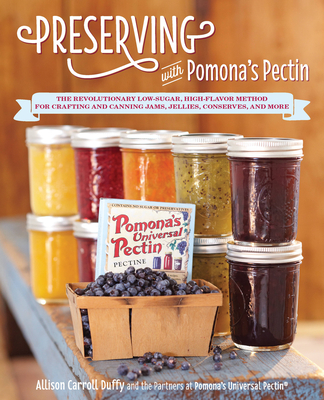 Description
---
Craft intensely flavored jams and jellies without all the sugar! In this first official Pomona's Pectin cookbook, find recipes that use less sugar to create your favorite jams, jellies, preserves, marmalades, conserves, pie fillings, and more.

If you've ever made jam or jelly at home, you know most recipes require more sugar than fruit—oftentimes 4 to 7 cups!—causing many people to look for other ways to preserve more naturally and with less sugar. Pomona's Pectin is the answer to this canning conundrum. Unlike other popular pectins, which are activated by sugar, Pomona's is a sugar- and preservative-free citrus pectin that does not require sugar to jell. As a result, jams and jellies can be made with less, little, or no sugar at all and also require much less cooking time than traditional recipes, allowing you to create jams that are not only healthier and quicker to make, but filled with more fresh flavor. If you haven't tried Pomona's already (prepare to be smitten), you can easily find the pectin at your local natural foods store, hardware store, or online.

With Preserving with Pomona's Pectin, you'll learn how to use this revolutionary product and method to create marmalades, preserves, conserves, jams, jellies, and more. From sweet offerings like Maple, Vanilla, and Peach Jam to savory favorites like Red Pepper and Jalapeno Chutney, you'll find endless combinations sure to delight all year round!
About the Author
---
Allison Carroll Duffy is a Master Food Preserver, trained through the University of Maine Cooperative Extension. She holds a master's degree in Gastronomy from Boston University and teaches canning and preserving classes and workshops. She has written about food for various publications including the Boston Globe and Backpacker magazine. Allison runs the Canning Craft blog (canningcraft.com) and lives in Portland, Maine. 
Praise For…
---
"Pectin, a naturally occurring substance in fruit, is required for jellies and jams to solidify. Since not all fruits have enough natural pectin to gel, recipes often call for commercial pectin, which requires a large amount of sugar to work. Pomona's Universal Pectin does not, however; it works with calcium and allows canners to produce a variety of preserves using less sugar. In her first book, master food preserver and blogger Duffy (canningcraft.com) introduces a wide selection of jams, jellies, and conserves using this low-sugar method. While the recipes have some simplistic instructions (every recipe has the same first two steps), accompanying tips allow canners to customize their sweeteners; the book also includes a review of canning supplies and techniques. VERDICT: The unique recipes and low-sugar options for preserving will make this cookbook a favorite among home canners." — Library Journal