Complete Book of the .22: A Guide to the World's Most Popular Guns, First Edition (Paperback)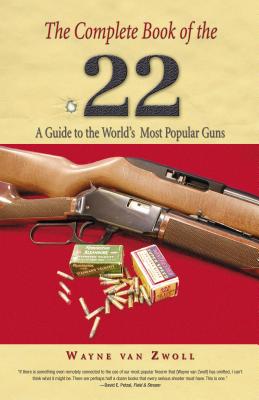 $19.95
On Our Shelves Now. Click on the title to see details.
Description
---
Here's the perfect companion to that most popular starter rifle, the venerable .22. The best isn't always the biggest--and the .22 is not only the perfect first rifle, but also one that many hunters and shooters come back to and use throughout their days afield. Wayne van Zwoll, a longtime expert on the subject, takes experts and beginners alike through the history, variety, and use of the classic .22. He writes appealingly about his first .22, and the ones he bought for later competitive use. He describes hunting with the .22, target shooting, and details the care and upkeep of the weapon. He discusses the evolution of the gun, and the refinements of the ammo that go with it. Included are chapters on: * The .17 * Practical scopes * Squirrel rifles * Supports * Browning * Getting to zero * Winchester * Holding a rifle still * Remington * The sling * Cooper * Prepping for the field * Ruger * A bullet's way through the wind * Savage * Cleaning * Real gunstocks * Ballistics * Better sights * . . . and more The .22's accuracy, economy, and versatility have made it an all-time best-seller. Now there's a book to go with every one.
About the Author
---
Wayne van Zwoll has published more than a thousand articles about the outdoors, for magazines such as Sports Afield, Outdoor Life, and Field & Stream. He is the author of The Hunter's Guide to Ballistics and The Hunter's Guide to Accurate Shooting, among others.
Praise For…
---
"There are perhaps half a dozen books that every serious shooter must have. This is one of them."--David E. Petzal, deputy editor, Field & Stream

"In 1972, I wrote a book called The .22 Rifle that was a modest, bare-bones guide for kids and new shooters. If my little volume was a dish of plain vanilla, Wayne van Zwoll's new .22 book is a 7,500-calorie banana split. "--David E. Petzal, deputy editor, Field & Stream


"Anyone who owns a .22 rifle will find van Zwoll's book fascinating."--Charlotte Observer (North Carolina)

"van Zwoll's 332-page book is an excellent resource for the beginning rimfire shooter and an entertaining read for more experienced outdoorspersons."--Kingsport Times-News

"The Complete Book of the .22 is an important resource for a shooter's library."--Kenosha News

"Readers learn everything there is to know about the cartridge and the rifles produced now and in the past . . . It's a wonderful book, and true to its title, a complete treatise of the subject."--Lexington Herald-Leader