Freshwater Fishing: Fishing Techniques, Baits and Tackle Explained, and Game Fish Tips (Spiral)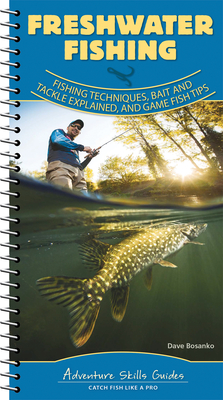 Description
---
Improve Your Skills with This Simple Guide to Catching Fish
Get started fishing or get better at it with secret tips and easy-to-follow instructions. Skip all the fluff and go straight to the information you want to know in this photo-illustrated booklet.
Pocket-size format--easier than laminated foldouts
Introductory information for beginners, including everything you need to know about rods, reels, lines, lures, and more
"Target species" section focusing on desirable types of fish, with equipment recommendations and tricks for catching each species
Ideas for preparing your fish for the table
Expert author with a lifetime of experience
About the Author
---
Dave Bosanko was born in Kansas and studied engineering before following his love of nature to degrees in biology and chemistry from Emporia State University. He spent 30 years as staff biologist at two of the University of Minnesota's field stations. Though his training was in mammal physiology, Dave worked on a wide range of research projects ranging from fish, bird, and mammal population studies to experiments with biodiversity and prairie restoration. An avid fisherman and naturalist, he has long enjoyed applying the fruits of his extensive field research to patterning fish location and behavior, and observing how these fascinating species interact with one another in the underwater web of life.