Madonna in a Fur Coat: A Novel (Paperback)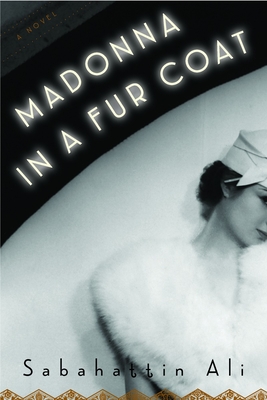 List Price: $17.99
Our Price: $6.98
(Save: $11.01 61%)
Description
---
Available in English for the first time, this best-selling Turkish classic of love and alienation in a changing world captures the vibrancy of interwar Berlin.
 
A shy young man leaves his home in rural Turkey to learn a trade and discover life in 1920s Berlin. There, amidst the city's bustling streets, elegant museums, passionate politics, and infamous cabarets, a chance meeting with a beautiful half-Jewish artist transforms him forever. Caught between his desire for freedom from tradition and his yearning to belong, he struggles to hold on to the new life he has found with the woman he loves.
 
Emotionally powerful, intensely atmospheric, and touchingly profound, Madonna in a Fur Coat is an unforgettable novel about new beginnings, the relentless pull of family ties, and the unfathomable nature of the human soul. First published in 1943, this novel, with its quiet yet insistent defiance of social norms, has been topping best-seller lists in Turkey since 2013.
About the Author
---
Sabahattin Ali was born in 1907 in the Ottoman town of Eğridere (now Ardino, in southern Bulgaria). A teacher, journalist, and poet, he owned and edited the popular satirical newspaper Marko paşa. A frequent target of government censorship, he was imprisoned twice for his writings and was killed on the Bulgarian border in 1948 as he attempted to flee Turkey. Today, Ali is an icon of social and political resistance among Turkish youth.
Praise For…
---
INTERNATIONAL BESTSELLER

"[Madonna in a Fur Coat] shows that the doors to freedom slam quickly, but are only opened by courage, nonconformity, and love." —Molly Crabapple, New York Times Book Review

"[A] profound, moving meditation on love and loss…. 'It is read, loved and wept over by men and women of all ages, but most of all by young adults,' writes Maureen Freely, who, with Alexander Dawe, has produced this stylish English translation now coming to the United States. 'And no one seems able to explain why.... Though writing more than 70 years ago in a country where traditional sexual morality reigned, Ali casts his lovers' relationship in strikingly modern terms.'" —Washington Post

"…captures the vibrancy of interwar Berlin through the story of a young man who leaves his rural village for the big city." —New York Times Book Review

"This emotional Turkish classic reminds us to always treasure those we hold dear….poignant…. Sabahattin Ali tells a passionate tale of emotional isolation, newfound intimacy, and the gut-wrenching intensity of love and loss. Ali expertly weaves a tragic story of loneliness, love, and grief, giving us a glimpse of spiritual isolation. Readers are pulled into the monotonous and lonely life of Raif Efendi, where they are sure to experience his acute alienation, his happiness upon finding a person who understands him so completely, and the pain and resentment caused by an ironic misunderstanding. This classic tale causes us to examine what our own lives would be like without the people we cherish." —Washington Independent Review of Books

"A poignant coming-of-age tale, drenched in disillusionment. The gap between hope and reality, art and ordinary life, has been explored in many other novels, but rarely with the unaffected simplicity of Madonna in a Fur Coat ...The translation by Maureen Freely and Alexander Dawe is crisp, capturing Ali's directness and clarity of language." —Times Literary Supplement

"Three quarters of a century after it was written Madonna in a Fur Coat by Sabahattin Ali feels both dated and timeless; dated because strong, independent women are no longer a rarity and contemporary gender roles are more fluid, and timeless as the ideal of a love without ulterior motives, the theme of missed opportunities, and the psychology of the principle characters—all of which are conveyed in crisp contemporary English by translators Maureen Freely and Alexander Dawe….Madonna in a Fur Coat is an enjoyable read. During the Cold War it was popular behind the Iron Curtain, and now that western countries are beginning to resemble Weimar Germany it should resonate here as well." —New York Journal of Books

 "Sabahattin Ali's heartbreaking novel Madonna in a Fur Coat spins a beguiling love story…. With perceptiveness and compassion, Ali depicts the sexual politics of the time and the heady tension between his male and female characters. "Why is it that even in the way you beg, there is dominance, and pity in the way we refuse?" Maria asks Raif in what becomes a powerful monologue on female empowerment. In equal measure, Ali explores preconceptions of masculinity through Raif's vulnerability and his capacity for intimacy. Relationships are endangered, he shows, by misunderstanding and misjudgment more than malice…. English translation conveys the author's emotional intelligence and crisp lyricism. Its sad tinge of fatalism belies its deeper, more dynamic aspects. Love both tortures and redeems the soul. …a compelling and tragic love story between a Turkish man and German woman." —Shelf Awareness (starred)

 "Finally available in English, this 1943 Turkish classic from a journalist twice imprisoned for his political views limns the emotionally wrought relationship between a reserved young Turkish man and an unconventional woman artist in interwar Berlin…Ali's affecting story of love and loss is both timeless and grounded in its distinctive setting, with sometimes old-fashioned charm that will appeal to many readers." —Library Journal

"Appearances are not what they seem in Ali's rich novel, first published in Turkey in 1943 and only now appearing in the U.S…Ali explores Maria and Efendi's complex relationship through Maria's thoughts on the metaphorical and physical boundaries of love, the expectations placed on men and women, the roles they take up or discard, and the choices people make when they are looking for a meaningful relationship. The narrator comes to understand that the outward appearance of Efendi's life as numb and unsatisfying belies its unimaginable depths of feeling and vulnerability. This fascinating story veers in surprising and revealing directions." —Publishers Weekly

"Ali (1907–48), a dissident Turkish writer imprisoned and later, it is believed, murdered by the state, originally published this then largely overlooked love story in 1943. Decades later, it holds a place on Turkey's best-seller lists, arguably in response to the recent government crackdown on civil liberties. Available in English in the U.S. for the first time, Ali's memorable novel explores fatalism and the complications of temperament, family ties, and unconventional love." —Booklist 

 "Madonna in a Fur Coat follows a young, fragile Turkish man's love for a charismatic German artist…Like Sabahattin Ali, he is a dreamy young man in love with books and is considered a failure by people whose cruelties towards the less fortunate he never fails to see… With a few masterly brush strokes, Ali draws a portrait of New Turkey's model middle-class family." —Believer Magazine
 
"Emotionally powerful, intensely atmospheric and touchingly profound, MADONNA IN A FUR COAT is an unforgettable novel about new beginnings, the relentless pull of family ties, and the unfathomable nature of the human soul." —Bookreporter
"Very, very romantic, coming of age novel… for someone who likes a big epic [book]" —WNYC The Brian Lehrer Show
 
"A latter-day Sorrows of Young Werther." —Asian Review of Books

"A simple yet gorgeously written love story about a shy, cynical young man named Raif, who is sent by his father to Berlin to learn the scented soap-making trade… It seems to me that that which inspires a younger generation to read, en masse, a seventy year-old book is the same thing that inspires them to fill the streets." —Tin House

"Ali is Turkey's best-known writer, the centerpiece, really, of one of the greatest literary traditions most people have never heard of: the Turkish Republican period.
"Exquisitely translated, perfectly captures the style and rhythm of this gripping love story." —Selçuk Altun, internationally bestselling author of The Sultan of Byzantium

"The account of a tender, doomed romance written by Ali, a Turk who was dangerously political and died mysteriously in 1948, is set in 1920s Berlin. Delicate and poignant, it weaves quite a spell." —Irish Times

"Following a recent revival of his reputation, [Ali] is today one of Turkey's best-loved writers, his books selling in the hundreds of thousands every year. . . Madonna in a Fur Coat is Ali's most famous novel and has topped the country's bestseller list for the past three years. . . Its prose sparkles with the friction between eastern conservatism and western decadence. This is above all a tale of young love and disenchantment, of missed opportunities and passion's elusive, flickering flame. . . a little reminiscent of Turgenev's First Love, with a hero every bit as gauche, and a twist every bit as bitter." —Financial Times

"The surprise bestseller … read, loved and wept over by men and women of all ages, but most of all by young adults. And no one seems able to explain quite why." —Guardian

"A heart-breaker … it has the kind of indefinably powerful impact of The Great Gatsby." —Observer

 "Moving and memorable, full of yearning and melancholy." —The Times (UK)

 "Offsets inter-war Berlin's decadent dazzle with bouts of shade, murk and melancholy ... recreates a vanished era and dramatizes a doomed relationship, and does so with verve, depth and poignancy. The result is a miniature masterpiece." —The National

"…an exquisitely precise rendering of what life was like in Berlin in the 1920s, prior to the worst of what would be the brutally inevitable march into World War II…. [a] moving ending…. Where the book is really beautiful is in its own portrait: that of a repressed young man trying to be more than what he is, through the agency of a beautiful, impulsive woman's soul." —Huffington Post

 "This was beautiful in all its layers." —Bookriot

"[e]ntrancing" —Signature Reads "Most Overlooked Books of 2017"

"It is an advent calendar of surprises. Maria's assessment that Raif is a little girl offers a much more calm, interesting gender meditation than any D. H. Lawrence riff…. Madonna reminded me of some of the most lasting interwar novels. Ali offers the story of what continues to be a small miracle—a man and a woman from different cultures, languages, and religions meet and fall in love. More importantly, they understand each other." —The Paris Review, Staff Picks

 "Passionate but clear . . . Ali's success [is in] his ability to describe the emergence of a feeling, seemingly straightforward from the outside but swinging back and forth between opposite extremes at its core, revealing the tensions that accompanies such rise and fall." —Atilla Özkirimli, writer and literary historian

"Madonna in a Fur Coat is an intriguingly appealing spin on the usual sort of (lost-) love story." —Complete Review 

"The story takes its time, first introducing its central character first through the eyes of a co-worker, then from their own perspective. It's emotional, rich, honest, and told with tender care and reverence for its characters." —My Subscription Addiction

"Sabahattin Ali's Madonna in a Fur Coat was released in English a few years ago, and it's brilliant." —Elif Shafak, Booker Prize nominee for 10 Minutes 38 Seconds in This Strange World