The Tantric Path of Indestructible Wakefulness: The Profound Treasury of the Ocean of Dharma, Volume Three (Hardcover)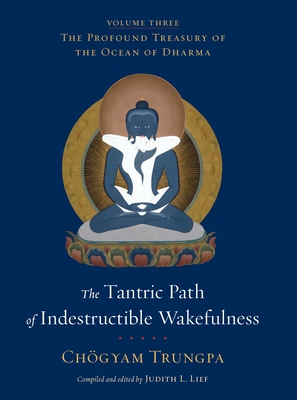 $79.95

On Our Shelves Now. Click on the title to see details.
Description
---
Chögyam Trungpa explores the the vajrayana teachings of the tantric path in this final volume of his masterpiece on Tibetan Buddhism
 
This three-volume collection presents in lively, relevant language the comprehensive teachings of the Tibetan Buddhist path of the hinayana, mahayana, and vajrayana. Considered Chögyam Trungpa's magnum opus, The Profound Treasury of the Ocean of Dharma will resonate with new and senior students of Buddhism.
 
In this third and final volume, Chögyam Trungpa's examines the vajrayana teachings of the tantric path. The vajrayana, or "diamond vehicle," also referred to as tantra, draws upon and extends the teachings of the hinayana and mahayana. As with the hinayana and the mahayana, the formal acceptance into the vajrayana is marked by a vow, in this case the samaya vow. There is an emphasis at this stage on the student-teacher relationship and on the quality of devotion. Generally, students must complete preliminary practices, called ngöndro, to prepare themselves for initiation into the vajrayana path before going further. Having done so, they then receive the appropriate empowerments to begin tantric practices. There are empowerment ceremonies of many kinds, called abhishekas. The vajrayana includes both form practices, such as visualizations and sadhanas (ritual liturgies), and formless practices based on allowing the mind to rest naturally in its inherent clarity and emptiness. Although on the surface, there is much greater complexity in tantric practices, the principles of mindfulness and awareness and the cultivation of compassion and skillful action continue to be of central importance. 

The tantric path requires complete engagement and fierce dedication. It is said to be a more rapid path, but it is also more dangerous. There is a quality of directness, abruptness, and wholeheartedness. Tantrikas, or vajrayana practitioners, recognize that the most challenging aspects of life, the energies and play of confused emotions and frightening obstacles, can be worked with as gateways to freedom and realization. Other topics covered in detail in this volume include the four reminders, the mandala principle, mahamudra, atiyoga, and more.
About the Author
---
Chögyam Trungpa (1940–1987)—meditation master, teacher, and artist—founded Naropa University in Boulder, Colorado, the first Buddhist-inspired university in North America; the Shambhala Training program; and an international association of meditation centers known as Shambhala International. He is the author of numerous books including Shambhala: The Sacred Path of the Warrior, Cutting Through Spiritual Materialism, and The Myth of Freedom.
Praise For…
---
"Chögyam Trungpa Rinpoche had a particular genius in presenting the Dharma to Western audiences. . . . These volumes display the far-reaching goodness that can be created in the world when compassion and devotion come together."—H.H. the Karmapa, Ogyen Trinley Dorje

"With the publication of The Profound Treasury of the Ocean of Dharma, these seminary transcripts have taken birth as three user-friendly volumes, beautifully arranged and elegantly edited without losing the author's intention or voice.  The volumes offer a glimpse of the heart teachings of the Vidyadhara, given to his students over several years with his uniquely provocative and meticulous style, enhanced by his knowledge of Western epistomology and psychology."—Dzogchen Ponlop Rinpoche, Buddhadharma