The Handbook of Tibetan Buddhist Symbols (Paperback)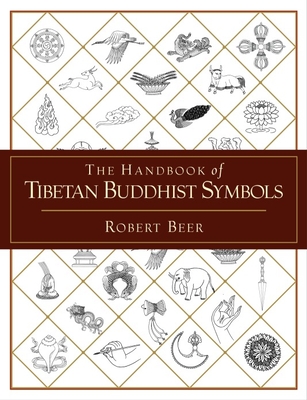 Description
---
A deep and encompassing dive into the vast array of symbols and attributes that appear within the complex iconography of Tibetan Buddhism

The Handbook of Tibetan Buddhist Symbols is a portal into the rich, multifaceted, and profound symbolism of Tibetan sacred art. The succinct descriptions that accompany Robert Beer's detailed line drawings reveal the origins, meanings, and functions of these symbols. Beer unravels the multiple layers of symbolism and meaning contained within the iconography, affording the reader a panoramic vision into the deeper dimensions of this sacred art.

Drawn largely from Beer's monumental work The Encyclopedia of Tibetan Symbols and Motifs, the meticulous brush drawings in this book depict all of the major Buddhist symbols and motifs, including the various groups of auspicious symbols; cosmological symbols; natural and mythical animals, such as the dragon, garuda, and makara; the entire assembly of ritual tantric implements and weapons; magical and wrathful symbols; handheld emblems, attributes, and plants; esoteric Vajrayana offerings; and mudras, or ritual hand gestures.
About the Author
---
Robert Beer has studied and practiced Tibetan thangka painting for thirty years, including five years of study with master artists Jampa of Dharamsala and Khamtrül Rinpoche of Tashijong. Beer is one of the first Westerners to become actively involved in this art form. Over the last two decades he has concentrated on an extensive series of iconographical drawings depicting the major deities, lineage holders, and symbols that occur in the spectrum of Tibetan art.