The Native Foods Restaurant Cookbook: Fresh, Fun, and Delicious Vegan Recipes That Will Entice and Satisfy Vegetarians and Nonvegetarians Alike (Paperback)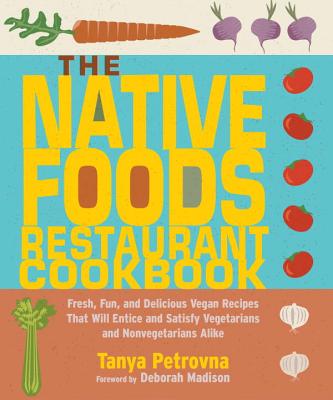 Description
---
When people ask Tanya Petrovna, "Are you a strict vegetarian?" she replies, "No, I'm a fun vegetarian!" The visionary behind the Native Foods chain of restaurants, Tanya is known for creating cuisine that is nutritious, organic, compassionate, and delicious. And with signature dishes like her dairy-free cheesecake made from cashew nuts, she proves that healthy, animal-friendly eating can be indulgent and fun.

Now, with this book, Tanya's best recipes can be made at home, including: "Fun Mung Curry," "Seitan Olé Mole," and "Rockin' Moroccan Skewers." Plus, there are plenty of outrageous desserts such as "Elephant Chocolate Cake with Cinnamon Peanut Butter Topping," "Sam's Vegan Cheesecake," and "Chocolate French Silk Lingerie Pie."

The Native Foods Restaurant Cookbook also contains glossaries of ingredients, utensils, and cooking methods and instructions for making your own seitan from scratch.
About the Author
---
Tanya Petrovna is a vegan chef and founder of the all-plant-based Native Foods Cafés. She is currently developing vegan food products, teaching tempeh workshops, saving feral cats, studying Iyengar yoga, and gardening in Southern California. Find her latest writings and activities at www.cheftanyapetrovna.com.
Praise For…
---
"The recipes are wonderful. Each one has a twist—a surprising ingredient or presentation that lifts it out of the ordinary. . . . If you want to share your vegan enthusiasm with the rest of the world, this cookbook belongs on your shelf."—Veg News

"What I especially appreciate here is the lavish use of a very rare ingredient: joy. It's expressed in the goofy sense of humor, the energy, and the apparently limitless enthusiasm that accompanies Tanya in her mission to get everyone to eat well without eating a bite of anything to do with animals."—from the foreword by Deborah Madison, author of Vegetarian Cooking for Everyone and Local Flavors

"Tanya's broad range of recipes have panache and soul, yet they are remarkably simple. Anyone who is looking to improve their diet and/or the planet will find her cookbook indispensable."—Didi Emmons, author of Vegetarian Planet and Entertaining for a Veggie Planet