Hide/Seek: Difference and Desire in American Portraiture (Hardcover)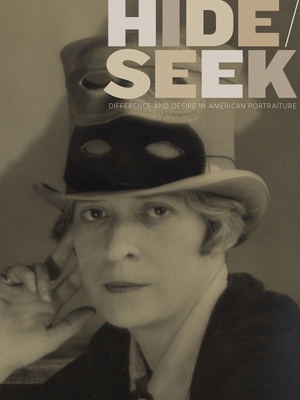 $45.00

If not in stock, we can Special Order from the publisher
Description
---
An entirely new interpretation of modern American portraiture based on the history of sexual difference.

Hide/Seek: Difference and Desire in American Portraiture, companion volume to an exhibition of the same name at the National Portrait Gallery, Smithsonian Institution, traces the defining presence of same-sex desire in American portraiture through a seductive selection of more than 140 full-color illustrations, drawings, and portraits from leading American artists. Arcing from the turn of the twentieth century, through the emergence of the modern gay liberation movement in 1969, the tragedies of the AIDS epidemic, and to the present, Hide/Seek openly considers what has long been suppressed or tacitly ignored, even by the most progressive sectors of our society: the influence of gay and lesbian artists in creating American modernism.

Hide/Seek shows how questions of gender and sexual identity dramatically shaped the artistic practices of influential American artists such as Thomas Eakins, Romaine Brooks, Marsden Hartley, Georgia O'Keeffe, Charles Demuth, Jasper Johns, Robert Rauschenberg, Andrew Wyeth, Andy Warhol, Robert Mapplethorpe, and many more—in addition to artists of more recent works such as Felix Gonzalez-Torres, Glenn Ligon, Catherine Opie, and Cass Bird. The authors argue that despite the late-nineteenth-century definition and legal codification of the "homosexual," in reality, questions of sexuality always remained fluid and continually redefined by artists concerned with the act of portrayal. In particular, gay and lesbian artists—of but not fully in the society they portrayed—occupied a position of influential marginality, from which vantage point they crafted innovative and revolutionary ways of painting portraits. Their resistance to society's attempt to proscribe them forced them to develop new visual vocabularies by which to code, disguise, and thereby express their subjects' identities—and also their own.

Bringing together for the first time new scholarship in the history of American sexuality and new research in American portraiture, Hide/Seek charts the heretofore hidden impact of gay and lesbian artists on American art and portraiture and creates the basis for the necessary reassessment of the careers of major American artists—both gay and straight—as well as of portraiture itself.
About the Author
---
Jonathan D. Katz is director of the visual studies doctoral program, State University of New York–Buffalo. Katz founded and directed the Larry Kramer Initiative for Lesbian and Gay Studies at Yale University and was the founding chair of the Department of Lesbian and Gay Studies at City College of San Francisco, the first department of lesbian and gay studies in the United States. The first tenured professor in gay and lesbian studies in the nation, he has written extensively on postwar American art, culture, and sexuality for a wide range of publications in the United States and Europe. Katz lives in Philadelphia, PA.

David C. Ward is a historian at the National Portrait Gallery, Smithsonian Institution. He is the author of Charles Wilson Peale: Art and Selfhood in the Early Republic and has published articles on a variety of topics in history and culture and on such figures as Hart Crane, Marsden Hartley, Ernest Hemingway, and Gerhard Richter. Ward is also a poet and critic who has been widely published in Anglo-American literary magazines.
Praise For…
---
CHOICE
As authors Katz (State University of New York, Buffalo) and Ward (National Portrait Gallery, Smithsonian Institution) demonstrate in this exhibition catalogue, portraiture has long been a genre that flies somewhat under the radar, but this seemingly unenviable attribute is partly what gives it its unique power. Drawing upon a range of recent scholarship, this beautifully illustrated catalogue examines a wide variety of American portraits from the late-19th century to the present, bringing to light the extent to which the expression of same-sex desire in such works has often existed just beneath the surface of appearances, sometimes boldly stated but usually carefully coded within a tangle of cultural camouflage. In addition to excellent essays, the catalogue examines each work succinctly with caption paragraphs that provide specific information pertaining to both artist and subject matter. The writing is clear and accessible throughout, but also richly nuanced in a way that pays tribute to the subtleties of expression that exist within the artworks themselves. An invaluable resource for both students and advanced researchers focusing on issues related to sexuality and representation, this work is also well suited to general audiences. Summing Up: Essential. Lower-level undergraduates and above; general readers. -- M. R. Freeman, Western Oregon University

Library Journal
This volume, accompanying the National Portrait Gallery's fall 2010 exhibit, is the first of its scope (1891–2003) on gay and lesbian portraiture in the context of American art and culture. Through the work of such artists as Georgia O'Keeffe, Keith Haring, Andrew Wyeth, Andy Warhol, Catherine Opie, and Robert Mapplethorpe, the portrait exhibit showcases a range of mediums, from photography and painting to installation and performance. By exploring such questions as gender, sexual identity, and the AIDS epidemic, Katz (director, visual studies, SUNY at Buffalo) and Ward (historian, National Portrait Gallery, Smithsonian Inst.) investigate the role of the American artist in representing the LGBT community to the greater art world. A thoughtful explanation places each portrait within historical and conceptual context. VERDICT Recommended for all students in undergraduate and graduate art programs and for all programs in LGBT studies.—Shauna Frischkorn, Millersville Univ., PA

ForeWord Reviews
Hide/Seek: Difference and Desire in American Portraiture, a survey of portrait art by and about lesbian and gay artists, ably addresses questions of disclosure and revelation in the work of twentieth-century artists. The book was published to accompany the Smithsonian's National Portrait Gallery exhibit of the same name (October 2010 to February 2011); besides the visual delight of seeing works by some of this country's most acclaimed artists, the exhibit and book unveil and decode the contributions of lesbian and gay artists to American modernism, offering a new way of thinking about American portraiture of the past hundred years. One of the ways in which a society invalidates the experience, and even the lives, of its marginalized members is by obscuring or destroying the history and stories of those lives. Jonathan D. Katz and David C. Ward show how American society has attempted to do so with the history and stories of the lesbian and gay community, creating a situation in which its members are seen as "other," and demonized for their difference. Especially moving is the Annie Leibovitz photographic portrait of Ellen DeGeneres, a study at once conflicted and beautiful in its "carnival of visual signs." Coming out, said DeGeneres, was a freeing experience, "because people can't hurt me anymore."
Authors Katz and Ward bring these stories to light and return them to the history of American art and culture, thus enriching it by calling it to recognize, if not yet wholly embrace, all of its members. They say of Walt Whitman in his time that, "It was Whitman's essence as a gay man that allowed him to ask American democracy to fulfill its promise." This important and compelling work demands the same of our country today. It goes a long way toward restoring the history, narrative, and legacy of artists who, in spite of being marginalized, have made lasting contributions to American art and culture.
Katz founded and directed the Larry Kramer Initiative for Lesbian and Gay Studies at Yale University and is director of the Visual Studies doctoral program at SUNY–Buffalo. Ward is a historian at the National Portrait Gallery, and the author of Charles Willson Peale: Art and Selfhood in the Early Republic. He is also a poet and critic.
Kristine Morris