More Girls Who Rocked the World: Heroines from Ada Lovelace to Misty Copeland (Paperback)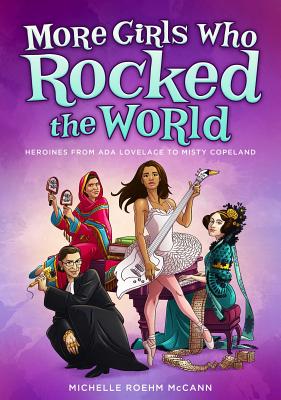 $11.99
Usually Ships in 1-5 Days
Description
---
From the inspiring author of Girls Who Rocked the World comes another comprehensive collection of true, inspiring profiles of successful young women throughout history who made their mark on the world before turning twenty.

Young women today crave strong, independent role models to look to for motivation. In the follow-up to the bestseller Girls Who Rocked the World, More Girls Who Rocked the World offers a fun and uplifting collection of influential stories with forty-five more movers and shakers who made a difference before turning twenty.

From Annie Oakley and Queen Victoria to Malala Yousafzai and Adele—each with her own incredible story of how she created life-changing opportunities for herself and the world—you'll get to know these capable queens of empires and courageous icons of entertainment. Also included are profiles of gutsy teenagers who are out there rocking the world right now and personal aspirations from today's young women.
About the Author
---
Michelle Roehm McCann has worked as a children's book editor and art director for more than twenty years, as well as writing and compiling seven award-winning children's books of her own. She lives in Portland, Oregon, with her husband, two world-rocking kids, and their brilliant cats, Horace and Percy.
Praise For…
---
This sequel to Girls Who Rocked the World includes profiles of 45 girls and women who have made a difference in their local and global communities. Figures include Josephine Baker, Cleopatra, Ruth Bader Ginsberg, Jazz Jennings, Nadia Nadim, and Selena Quintanilla-Perez. Each informative profile is fairly brief and written in straightforward conversational style. The author adds bits of storytelling flair to the biographical accounts: "Aretha stepped up to the chair. From this height, she could see the whole congregation at New Bethel Baptist Church." This technique helps move narratives forward without being distracting. Peppered throughout are quotes from contemporary girls that answer thequestions "How will YOU rcoks the world?"—providing readers with an opportunity to imagine themselves included among these inspiring women. A fine offereing for libraries looking to fill out their biography collection with a browser-friendly book.

Like its predecessor, Girls Who Rocked the World (2012), this appealing compendium features brief profiles of women from around the world who achieved greatness at a young age.The 45 short biographies of such well- and lesser-known women as Queen Esther of Persia, Jazz Jennings, Chloe Kim, and Mary Lou Williams are a disparate group, save that all their subjects made their marks on the world before the age of 20. Written in an engaging, conversational style, many profiles are followed with comments from girls and young women who explain their own plans for rocking the world. There are minor quibbles with some of McCann's wording, as when she identifies Ada Byron Lovelace as a "computer programmer," a bit of an oversimplification. Emma Watson is identified as an actress and activist, but only one paragraph explains her work as a United Nations goodwill ambassador. One perplexing inclusion is Naya Nuki, identified as a "survivor." A Shoshone girl, Nuki was captured along with Sacagawea when both were 11 in a Hidatsa raid and forced to march over 1,000 miles from their home. Other than Lewis' diary entry describing her reunion with Sacagawea during the Lewis and Clark expedition, there is no other record, so the profile is mostly speculative. These minor speed bumps don't diminish the pleasure and inspiration to be had in the whole. There are suggestions for further reading on all the subjects. A diverse compendium that will entertain, inform, and inspire. (bibliography, websites, endnotes)

In this follow-up to Girls Who Rocked the World (2012), McCann introduces 45 more women from around the globe who exhibited courage and pushed the limits of gender. Beginning with Esther, the Biblical queen of the Persian Empire, and Cleopatra, chronologically arranged sketches place each woman in her time period and describe pivotal events that solidify her place in history. For instance, Josephine Baker is not only remembered as an African American dancer who charmed Paris when her native U.S. upheld segregation, but also as a spy who communicated secrets to the French Resistance. Invented dialogue gives the sketches an appealing, modern feel, while sidebars add interesting details. Many names will be recognizable, from Eleanor Roosevelt and Hillary Rodham Clinton to Beyoncé and Jazz Jennings. Others, like Indian architect Sheila Sri Prakash and Arlen Siu Bermúdez, a revolutionary poet from Nicaragua, may be new. In addition to striving for diversity, the author includes many young women making history today. Readers can find out more about these dynamic women through the appended bibliography and source notes.

In this sequel to Girls Who Rocked the World (Aladdin 2012), 45 new inspirational stories of women from Ada Lovelace to Misty Copeland are told. Spanning from ancient times to the modern world-and covering subjects from political leaders to race car drivers-this collection of short biographies is sure to have something for everyone. All of the selections are brief, yet contain a large amount of factual information told in a conversational manner. Quotes from the individuals and small boxes of fun facts make the reading extremely enjoyable. A personal connection to the reader is made through the inclusion of the question "How will you rock the world?" The variety of people included and the kid-friendly manner in which the information is presented will make this a popular read among middle grade readers, yet is engaging enough to catch the interest of older readers as well. This would be a great way to introduce biographies to readers.