The Big Test (Mrs. Hartwell's Classroom Adventures #4) (Paperback)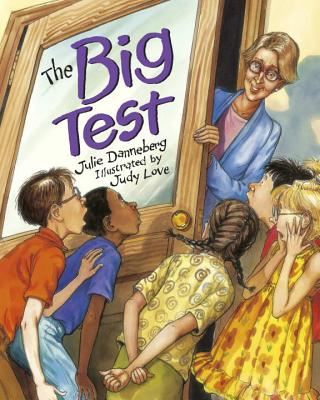 $7.95
Usually Ships in 1-5 Days
Description
---
Are Mrs. Hartwell's students ready to show what they know?

Mrs. Hartwell is preparing her class to take the Big Test. Knowing they have studied and are well-prepared, she helps the students practice how to sit quietly, fill in the bubbles, and follow the directions. She even instructs them on proper morning-of-the-test nutrition.

As her students grow increasingly anxious about the Big Test, Mrs. Hartwell realizes she has to teach the most valuable test-taking skill of all: learning to relax!
About the Author
---
Julie Danneberg is the author of several books for children, including FIRST DAY JITTERS, FIRST YEAR LETTERS, LAST DAY BLUES, COWBOY SLIM, and FAMILY REMINDERS. She lives in Denver, Colorado.

Judy Love is a graduate of Rhode Island School of Design and has illustrated numerous children's books, including First Day Jitters and Last Day Blues by Julie Danneberg. She lives near Charlotte, North Carolina, with her family.
Praise For…
---
Mrs. Hartwell is back (First Year Letters, 2003, etc.) in a gentle satire on teaching to the test.

It's a Monday at the end of a really great school year. The kids have learned a lot and had fun along the way, but it's time now for the dreaded standardized test. But first, they need to learn how to show what they know. On Monday, they practice sitting still. Tuesday's lesson is on bubble-filling, and Wednesday finds the class taking a timed practice test. Throughout, Mrs. Hartwell finds that she is writing a lot of passes to the nurse's office-the students can't take the pressure. And so on Thursday, Mrs. Hartwell tosses her lesson plans and leads her nerved-up class to the library for a little relaxation. Danneberg's tongue-in-cheek humor is definitely in evidence as she describes the rigors of getting ready for a standardized test and the maladies that arise in anxiety-ridden students. Love's ink-and-dye artwork captures the varied expressions and body language of a classroom full of students, from a finger-down-the-throat gesture of disgust to the pride on their faces at having learned so much.

Once they stop laughing at the spot-on depiction of standardized testing, teachers should take a page from Mrs. Hartwell's book.
—Kirkus Reviews

Mrs. Hartwell's students have been working hard all year, but they are not sure they can deal with the Big Test. The week before it is slated, their teacher tells them they have just a few more things to learn. They need to know how to sit still for long periods of time, how to fill in the bubbles on the answer sheet, and how to follow directions. At each turn, the kids worry and get headaches, stomachaches, and other maladies. On Thursday, Mrs. Hartwell lines up her class and marches them down the hall to the library. The sign on the door says, "Library Closed: Students Testing." But inside it's a test party. The students get to play and relax and eat. This works so well that no one is sick anymore and they breeze through the actual Big Test on Friday. The illustrations, done in ink and transparent dyes on watercolor paper, are priceless. The children's faces clearly express all the agony that the situation requires. The youngsters appear to be about second or third graders. This title will be popular in school and public libraries.
—School Library Journal

Books about school anxiety, especially the first day of school, abound, but this take is refreshing for its unusual focus on testing-related anxiety. After Mrs. Hartwell explains that they "have to know how to show what you know," the class tackles one skill daily: sitting still and working individually, reading all the directions, filling in answer bubbles, and more. The multicultural kids' facial expression—perplexed, worried, determined, and relieved once the test is over—aptly convey their experience. Standardized testing is an accepted reality in most public schools; this portrayal effectively reassures students that anxiety and challenges are normal and common, and can be overcome.
—Booklist