Seven Fires: Grilling the Argentine Way (Hardcover)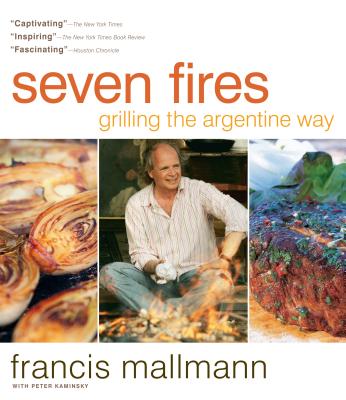 List Price: $40.00
Our Price: $18.00
(Save: $22.00 55%)
Description
---
James Beard Award Winner

A trailblazing chef reinvents the art of cooking over fire.

Gloriously inspired recipes push the boundaries of live-fired cuisine in this primal yet sophisticated cookbook introducing the incendiary dishes of South America's biggest culinary star. Chef Francis Mallmann—born in Patagonia and trained in France's top restaurants—abandoned the fussy fine dining scene for the more elemental experience of cooking with fire. But his fans followed, including the world's top food journalists and celebrities, such as Francis Ford Coppola, Madonna, and Ralph Lauren, traveling to Argentina and Uruguay to experience the dashing chef's astonishing—and delicious—wood-fired feats.

The seven fires of the title refer to a series of grilling techniques that have been singularly adapted for the home cook. So you can cook Signature Mallmann dishes—like Whole Boneless Ribeye with Chimichuri; Salt-Crusted Striped Bass; Whole Roasted Andean Pumpkin with Mint and Goat Cheese Salad; and desserts such as Dulce de Leche Pancakes—indoors or out in any season. Evocative photographs showcase both the recipes and the exquisite beauty of Mallmann's home turf in Patagonia, Buenos Aires, and rural Uruguay. Seven Fires is a must for any griller ready to explore food's next frontier.
About the Author
---
Francis Mallmann, author of Seven Fires and Mallmann on Fire, is the reigning star of food television in the Spanish-speaking world, and the most famous and popular chef in South America. His restaurants include Siete Fuegos at the Vines Resort & Spa in Argentina's wine country; Patagonia Sur in Buenos Aires; El Garzón in Uruguay; 1884 Restaurante in Mendoza, Argentina (named one of Latin America's 50 Best Restaurants); and Los Fuegos in Miami. USA Today and the Times (London) have named his restaurants among the top 10 places to eat in the world. Most recently, Mallmann was the subject of the Netflix documentary series Chef's Table.
Peter Kaminsky is the author and coauthor of many books, including Pig Perfect, Culinary Intelligence, and Green Fire, Seven Fires, and Mallmann on Fire (with Francis Mallmann). He is a longtime contributor to Food & Wine and a former columnist for the New York Times and New York magazine. He was managing editor of National Lampoon. He lives in Brooklyn, New York.
Praise For…
---
"This captivating book about cooking over wood is as straightforward as it is appealing."
—New York Times
 
"Glorious . . . You could amuse yourself all summer long exploring Mallmann's methods. His cooking is utterly unpretentious."
—Fine Cooking
 
"Mallmann cooks with the elegant purity achieved only after attaining a mastery of complicated food. I craved Mallmann's burnt flavors, from caramelized oranges with rosemary to flattened sweet potatoes charred in butter.  Bobby Flay, be very afraid."
—New York Times Book Review
 
"Seven Fires is, in its essence, a love letter to Argentina's obsession with fire and food."
—Epicurious

"[Mallmann] reconnects us to the primal simplicity and visceral pleasure of cooking over a fire."
—New York Times

"Argentinean chef Francis Mallmann presents a gorgeous volume detailing seven approaches to grilling.  What will keep cooks coming back, however, are rustic dishes like burnt tomatoes with fennel and mustard vinaigrette; pork chops with honey gremolata; and boneless ribeye with chimichurri.  Augmented with plenty of smoky photos, the only thing readers will lack is the smell of charcoal."
—Publishers Weekly starred review