Facilitating Seven Ways of Learning: A Resource for More Purposeful, Effective, and Enjoyable College Teaching (Hardcover)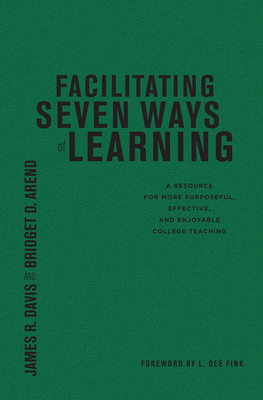 $163.35

If not in stock, we can Special Order from the publisher
Description
---
As faculty, we expect students to learn a wide variety of concepts, processes and applications. to accomplish this, research clearly suggests using a variety of strategies. This book not only explains that research, but also gives concrete examples and a solid rationale for each learning approach. This is the perfect book for groups and reading circles of experienced teachers. I will certainily add to my faculty development collection.--Todd Zakrajsek Associate Professor, School of Medicine, University of North Carolina Chapel Hill

The seven ways of learning identified by Davis and Arend will add a great deal of precision to the task of selecting the right set of learning activities for a rich, or in my language, significant set of learning goals. This book offers valuable strategies for improving learning, and will be worth reading for years to come.-- L. Dee Fink

With careful attention to the research about multiple types of learning, Davis and Arend have provided a treatsure trove of tips and techniques, from low-tech engaging discussions to high-tech virtual reality simulations, to help college teachers create learning environments that work.--Michael Wesch, 2008 US Professor of the Year, University Distinguished Teaching Scholar, Kansas State University

For teachers in higher education who haven't been able to catch up with developments in teaching and learning, James Davis and Bridget Arend offer an introduction that focuses on seven coherent and proven evidence-based strategies. The underlying rationale is to provide a framework to match teaching goals to distinct ways of learning, based on well-established theories of learning. The authors present approaches that readers can readily and safely experiment with to achieve desired learning outcomes, and build confidence in changing their methods of teaching.

The authors provide the reader with a conceptual approach for selecting appropriate teaching strategies.