I'm Like You, You're Like Me: A Book About Understanding and Appreciating Each Other (Hardcover)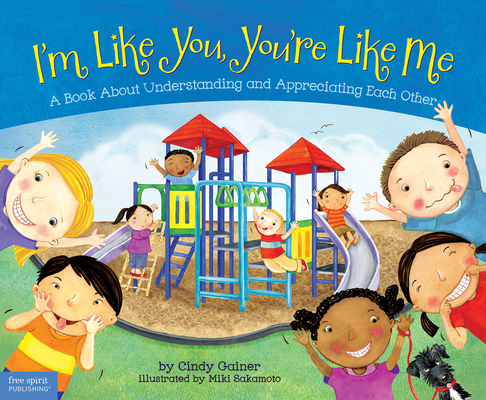 $14.99

NOT on our shelves - Usually Ships in 1-5 Days
Description
---
"It's fun to find ways I'm like you and you're like me. It's fun to find ways we're different." In this colorful, inviting book, kids from preschool to lower elementary learn about diversity in terms they can understand: hair that's straight or curly, families with many people or few, bodies that are big or small. With its wide-ranging examples and fun, highly detailed art, I'm Like You, You're Like Me helps kids appreciate the ways they are alike and affirm their individual differences. A two-page adult section in the back provides tips and activities for parents and caregivers to reinforce the themes and lessons of the book.
About the Author
---
Over her 30-year career, Cindy Gainer has worked with and for children in many capacities, including as an educator, proprietor of a preschool, athletic mentor, award-winning author, illustrator, musician, workshop presenter, and support professional for children with special needs. I'm Like You, You're Like Me embodies her sensitive and encouraging manner. Cindy resides near Pittsburgh, Pennsylvania.
Praise For…
---
2012 Nautilus Silver Award winner in the Children's Book category
 "Colorfully illustrated and beautifully written . . . Children of all ethnicities, family situations, shapes and sizes and abilities, including those who are physically challenged, are shown and celebrated for both their likenesses and their differences. This is an excellent book for use in the home, classroom, or church library."—Libraries Alive, a publication of the National Church Library Association
"Sensitively written [and] beautifully illustrated . . . a childhood multicultural classic."—Midwest Book Review
This newly illustrated version of a 1998 title assists children in learning the basic traits of tolerance and respect for others through discussions of comparing, acceptance, listening, understanding, kindness, and cooperation. The simple text lists these concepts while depicting how the children are alike and different. The illustrations provide examples of ways children can listen, cooperate, and appreciate one another. Bright, cheerful art adds clarity as it depicts children of various backgrounds playing and working together. The layout consists of spreads with text on the left and a full-page image on the right. Borders on the top and bottom relate to the children's activities on the page. Suggestions for sharing and using this book, as well as activities to reinforce the concepts, appear at the end. With the focus on kindness, respect, and tolerance, this title is an appropriate teaching tool for an early-childhood environment.
— School Library Journal
"Young readers will have a great time learning how they're alike and different, from their hair to their families to where they live and more."
— Lori Calabrese, National Children's Book Examiner, examiner.com
"A perfect book to use in a classroom, nursery school, home—or anywhere there is diversity or where diversity is appreciated."
— Pamela Kramer, Book Examiner, Examiner.com
"The message of this purpose-driven text is loud and clear: Recognize similarities, accept differences and appreciate both. . . . A starting point for diversity discussions."
— Kirkus Reviews