Whole Lesbian Sex Book: A Passionate Guide for All of Us (Paperback)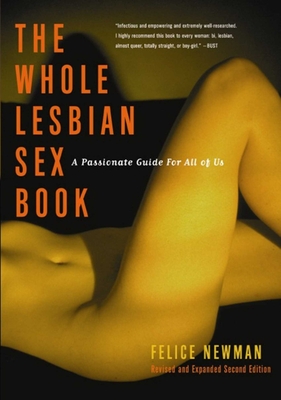 List Price: $33.95
Our Price: $13.00
(Save: $20.95 62%)
Description
---
The Whole Lesbian Sex Book
was the first-ever sex guide to offer information and encouragement for all women who desire women -- lesbian, bisexual, butch, femme, androgynous, and transgender. First published in 1999, it's been lauded for its thoroughness, enthusiastic tone, and creative, nonjudgmental approach to lesbian sex in all its rich variety. (Library Journal lamented, "Why can't more heterosexual sex manuals be this good?") Now, five years later, sex educator Felice Newman has completely updated this classic guide. There is new information throughout, up-to-date research, fresh quotes from women who share their real-world experiences, a greatly expanded resource guide, new illustrations, and an entire new chapter on sex and partnership.
Topics include:
Where to find sex partners (and how to talk to your lovers about sex).
Discovering your desires and fantasies.
How to have all the orgasms you desire--G-spot orgasms, multiple orgasms, extended orgasms, and ejaculation.
Why communication is the most important erotic skill you can offer your partners.
How masturbation can improve your sex life.
Expert how-to information on cunnilingus, anal sex, vaginal fisting, and other favorite lesbian sex techniques.
How to choose vibrators, dildos, and harnesses, and get the most out of your sex toys.
And much more.
Praise For…
---
"Superb.… Sets a standard for which all popular sex writers should aim. Not just for lesbians--heterosexual women could learn a great deal about themselves, as could the men who aspire to please them." --Library Journal
"Infectious and empowering and extremely well researched. I highly recommend this book to every woman: bi, lesbian, almost queer, totally straight, or boy-girl. Getting off is good, and this book will help you get off better." --Bust
"A classic." --The Advocate
"The encyclopedia of lesbian sex that every good girl needs in her library." --On Our Backs
"The most complete, all-questions-answered, savvy guide to lesbian sex. Keep it next to the bed." --Good Vibrations
"Urban and diverse in topic, this new guide is a cool drink of water in a drought of good sex info for dykes. This book gives tips, toys and tidings you'll wonder how you lived without." --Babeland
"Desire, fantasy, every twist and turn of the erotic imagination--it's all here." --Planet Out
"Filled with great advice, practical support, and steamy, imaginative suggestions." --Girlfriends
"Felice Newman has her latex-covered finger on the clit of Lesbian Nation." --San Francisco Bay Guardian
"Kinky people may consider themselves past needing sex manuals, but anyone involved in a sexual relationship with a woman, be they male or female, would be well advised to study this book carefully." --Skin Two
"Up-to-date, inclusive, and hot." --Sexuality.org
"The most thorough and up-to-date lesbian sex guide around. Don't buy Newman's book expecting a clone of the genteel Joy of Lesbian Sex. The author describes everything in delicious and explicit detail…" --LesbiaNation
"The lesbian sex information you've always wanted but could never find. The Whole Lesbian Sex Book is intelligent, sexy, humorous and emotionally savvy." --Staci Haines, author of Healing Sex
— Reviews