Secrets of God: Writings of Hildegard of Bingen (Paperback)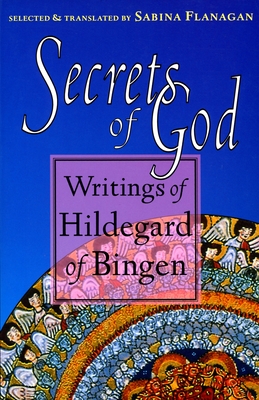 List Price: $21.95
Our Price: $9.00
(Save: $12.95 59%)
On Our Shelves Now. Click on the title to see details.
Description
---
A unique glimpse into the mind of the 12-century visionary Hildegard of Bingen through her "creative and insightful" writings on medicine, spirituality, and more (Booklist)

Visionary, mystic, poet, musician, naturalist, healer, theologian—the Rhineland nun Hildegard of Bingen (1098–1179) was a Renaissance woman long before there was a Renaissance. This is the first book in English to offer a representative selection of writings from all of her amazing range of work.

Hildegard wrote many volumes on subjects from mystical vision to sexuality, from theology to natural medicine—in letters, treatises, poetry, and songs—all in an age when few women wrote more than an occasional letter. She was a woman of extraordinary influence whose work not only surpassed that of her male contemporaries in its range, but also outshone them in visionary beauty and intellectual power. This collection includes a brief biography of Hildegard, and selections from the following works:

• Scivias (literally, "know the ways"), the record of Hildegard's visions and her commentary on them
• The Book of Life's Merits, visionary work
• The Book of Divine Works, a work of cosmology and anthropology
• Natural History, a record of plants, animals, and minerals, translated here into English for the first time
• Causes and Cures, a compendium of her writing on natural medicine
• Symphonia, her songs and poetry
• Biographical works
• Selected letters
About the Author
---
Hildegard of Bingen was a German Benedictine abbess, composer, philosopher, mystic, visionary, and extremely gifted polymath. Many Germans consider her to be the founder of scientific natural history in Germany.

Sabina Flanagan, Ph.D., is a visiting research fellow at the Universities of Adelaide and Melbourne, Australia. A scholar of Hildegard for many years, she is the author of the standard biography, Hildegard of Bingen: A Visionary Life.
Praise For…
---
"Flanagan, a leading Hildegard scholar, has selected and translated a range of material, which makes the work of the twelfth-century visionary accessible to a popular audience. Selections are long enough to introduce readers to Hildegard's style and the structure of her arguments with out causing them (in the words of a commentator writing a generation after her death) to shrink from and avoid reading the books of Hildegard because of her difficult syle. Flanagan has preserved the style in her translation, but readers who do not shrink from it will find it rewarding; what some commentators have found difficult and unusual, many readers have found creative and insightful. Both style and content have contributed to Hildegard's growing popularity more than eight centuries after her death. This collection includes mystical writings, writings in natural history and medicine, correspondence, narrative, and poetry, as well as a brief biography, a bibliography, and a discography for readers who wish to pursue Hildegard's work further."—Steve Schroeder, Booklist

"At last it is possible for the ordinary reader to get some idea of the energy and creativity of the great Hildegard's mind. These translations of her spiritual and medical writing, her poetry and letters, are a remarkable contribution to the study of early women writers."—Monica Furlong, author of Merton: A Biography and Visions and Longings: Medieval Women Mystics