Empire of Illusion: The End of Literacy and the Triumph of Spectacle (Paperback)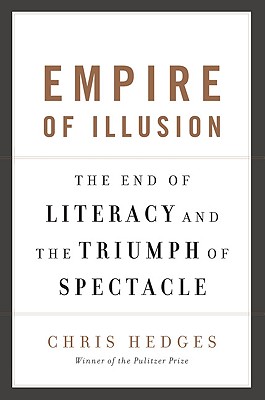 $14.95
Usually Ships in 1-5 Days
Description
---
Pulitzer prize-winner Chris Hedges charts the dramatic and disturbing rise of a post-literate society that craves fantasy, ecstasy and illusion above all else.


We now live in two Americas. One--now the minority--functions in a print-based, literate world that can cope with complexity and can separate illusion from truth. The other--the majority--is retreating from a reality-based world into one of false certainty and magic. To this majority--which crosses social class lines, though the poor are overwhelmingly affected--presidential debate and political rhetoric is pitched at a sixth-grade reading level. In this "other America," serious film and theater, as well as newspapers and books, are being pushed to the margins of society.
In the tradition of Christopher Lasch's The Culture of Narcissism and Neil Postman's Amusing Ourselves to Death, Pulitzer Prize-winner Chris Hedges navigates this culture-attending WWF contests, the Adult Video News Awards in Las Vegas, and Ivy League graduation ceremonies-to expose an age of terrifying decline and heightened self-delusion.


About the Author
---
Chris Hedges is a fellow of The Nation Institute. He spent nearly two decades as a foreign correspondent in Central America, the Middle East, Africa, and the Balkans, with fifteen years at the New York Times. He is the author of the best-selling War Is a Force That Gives Us Meaning and American Fascists. He currently writes for numerous publications, including Harper's, The New York Review of Books, Granta, and Mother Jones. A columnist for Truthdig, he lives in Princeton, New Jersey.