The Just Bento Cookbook: Everyday Lunches To Go (Paperback)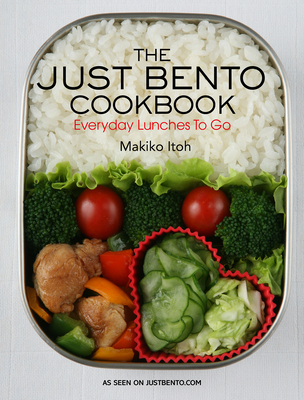 $19.95

NOT on our shelves - Usually Ships in 1-5 Days
Other Books in Series
This is book number 1 in the Just Bento Cookbook series.
Description
---
Bento fever has recently swept across the West, fuelled not just by an interest in cute, decorative food, but by the desire for an economical, healthy approach to eating in these times of recession. A leading light in the popularization of bento has been Makiko Itoh, whose blog, Just Bento, boasts hundreds of thousands of subscribers, all of whom love her delicious recipes and practical bento-making tips.


Now, for the first time, Itoh's expertise has been packaged in book form. The Just Bento Cookbook contains twenty-five attractive bento menus and more than 150 recipes, all of which have been specially created for this book and are divided into two main sections, Japanese and Not-so-Japanese. The Japanese section includes classic bento menus such as Salted Salmon Bento and Chicken Karaage Bento, while the Not-so-Japanese section shows how Western food can be adapted to the bento concept, with delicious menus such as Summer Vegetable Gratin Bento and Everyone Loves a Pie Bento.


In addition to the recipes, Itoh includes sections on bento-making equipment, bento staples to make and stock, basic cooking techniques, and a glossary. A planning-chart section is included, showing readers how they might organize their weekly bento making.


In a market full of bento books that emphasize the cute and the decorative, this book stands out for its emphasis on the health and economic benefits of the bento, and for the very practical guidelines on how to ensure that a daily bento lunch is something that can easily be incorporated into anyone's lifestyle. This is the perfect book for the bento beginner, but will also provide a wealth of new bento recipe ideas and tips for Just Bento aficionados.
About the Author
---
Makiko Itoh was born in Tokyo and raised and educated in Japan, England and the U.S. After years of living in New York City, she moved to Switzerland, where it was difficult to find authentic Japanese cooking. This inspired her to go back to her roots and learn how to cook the food her mother and grandmother used to make, using the limited range of Japanese ingredients available to her. In 2003 she started a blog about Japanese cooking called Just Hungry, and in 2007, a companion blog about bento box lunches called Just Bento. Just Hungry is the most popular blog about Japanese cooking in English, and Just Bento boasts more than 220,000 subscribers and millions of page views a month.