Search for Books
ABA Mobile Menu
Beats at Naropa: An Anthology (Paperback)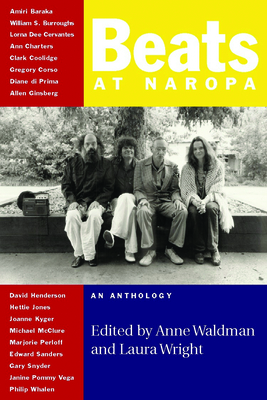 $18.95
On Our Shelves Now. Click on the title to see details.
Description
---
"At Naropa University's Jack Kerouac School of Disembodied Poetics, there has long been an illuminating, dynamic, ongoing exchange of ideas about the history and legacy of the Beat Generation--an exchange fortunately that has been carefully archived and preserved. This valuable anthology does not further embalm the 'legend' of the Beats. Instead it allows its readers to hear authentic voices --Allen Ginsberg, William Burroughs, John Clellon Holmes, Diane di Prima, Philip Whalen, etc.--as well as introducing the thoughtful and responsible work of leading Beat scholars."--Joyce Johnson
Amassed from the riches of the Naropa University audio archives, this collection offers an exciting new look at the Beats--whose influence lives on in the art and politics of our time. In this often spontaneous, conversational book, readers are introduced to the hard truths behind being a Beat woman, the haunting accuracy of William Burroughs's world-view, the passion and energy of Allen Ginsberg and Anne Waldman, Jack Kerouac's unexpected musicality, Diane DiPrima's foray into small press publishing, Michael McClure's account of the famous first reading of "Howl," and, most of all, the inspirations behind America's most provocative and prescient thinkers. Contributors include:
David Amram
Amiri Baraka
Ted Berrigan
Junior Burke
William S. Burroughs
Lorna Dee Cervantes
Ann Charters
Clark Coolidge
Gregory Corso
Diane di Prima
Lawrence Ferlinghetti
Rick Fields
Allen Ginsberg
David Henderson
Abbie Hoffman
John Clellon Holmes
Joyce Johnson
Hettie Jones
Edie Parker Kerouac
Joanne Kyger
Michael McClure
William S. Merwin
John Oughton
Marjorie Perloff
David Rome
Edward Sanders
Gary Snyder
Janine Pommy Vega
Steven Taylor
Chogyam Trungpa, Rinpoche
Anne Waldman
Philip Whalen
Laura Wright
Joshua Zim
About the Author
---
Anne Waldman is an internationally renowned poet, performer, and Distinguished Professor of Poetics at Naropa University's Jack Kerouac School of Disembodied Poetics. She is the co-editor of Civil Disobediences: Poetics and Politics in Action and the author of over forty books, including In the Room of Never Grieve and Vow to Poetry: Essays, Interviews, & Manifestos. A poet and map librarian, Laura Wright holds an MFA from Naropa University where she has also been a guest faculty member of the Summer Writing Program. She is the author of Part of the Design and has translated work by Henri Michaux.