Becoming a Woman: A Biography of Christine Jorgensen (Sexual Minorities in Historical Context) (Paperback)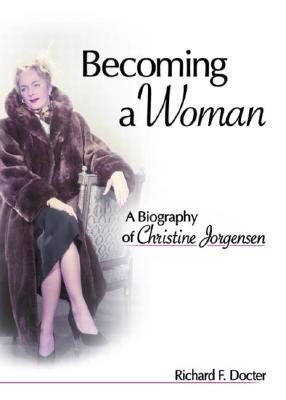 $65.10

NOT on our shelves - Usually Ships in 1-5 Days
Description
---
Discover the remarkable woman behind the legend.
Discover Christine Jorgensen's remarkable, inspirational journey to become the woman she always knew she should have been. Becoming a Woman: A Biography of Christine Jorgensen provides fascinating insights about the woman who opened doors--and minds--on behalf of sexual minorities. This book chronicles Christine's drive, ability to solve problems, immense determination, and just plain luck as she transformed herself into her true gender--and reveals facets of her personality previously undisclosed by other biographies of her life. Christine Jorgensen was a major contributor to the unfolding of the so-called sexual revolution in America. Becoming a Woman: A Biography of Christine Jorgensen is the story of one courageous individual overcoming personal and social barriers, enduring the difficult compromises that needed to be made, and the ultimate realization of goals. This revealing warts-and-all biography tells Christine's real story while examining the history of transsexuality in western societies, the medical intervention provided to her, and insightful profiles of Alfred C. Kinsey, Georges Burou, Harry Benjamin, and Christian Hamburger. The appearance and characteristics of cross dressers are also discussed, as well as their lifestyles are contrasted with transsexual persons. This biography serves to illustrate the challenge to lessen discrimination against all LGBT persons--and the struggle that still lies ahead. Becoming a Woman: A Biography of Christine Jorgensen explores:
the supportive and high functioning family in which Christine grew up

Jorgensen's struggle with homosexual feelings deemed unacceptable by society

Jorgensen's young adult years while presenting as a man

the steps in his/her transsexual self-identification

Jorgensen's determination to redefine himself/herself through medical intervention

why Dr. Christian Hamburger in Copenhagen took an interest in Jorgensen's case

the previously unrevealed story of Jorgensen's revelations to a news reporter that led to international headlines

how Jorgensen developed a profitable nightclub act

the conflicts that accompanied the writing and publication of her autobiography

Jorgensen's love/hate personality characteristic and its effect on personal relationships

much more
Becoming a Woman: A Biography of Christine Jorgensen is eye-opening, thought-provoking reading perfect for transsexuals and prospective transsexuals; those who identify as gay, lesbian, bisexual, or as cross dressers; mental health professionals; sociologists; educators; students; social workers; civil rights attorneys; and cultural anthropologists.