Gay Travels in the Muslim World (Paperback)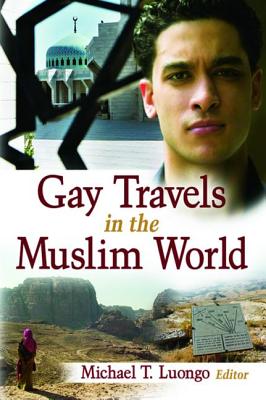 $50.47
Usually Ships in 1-5 Days
Description
---
Travel beyond the fear and paranoia of 9-11 to experience Muslim culture

Gay Travels in the Muslim World journeys where other gay travel books fear to tread--Muslim countries. This thought-provoking book tells both Muslim and non-Muslim gay men's stories of traveling in the Middle East during these difficult political times. The true, very personal tales reveal how gay men celebrate their lives and meetings with local men, including a gay soldier's story of his tour of duty in Iraq. Insightful and at times sexy, this intelligent book goes beyond 9-11 and the present political and cultural divides to illustrate the real experiences of gay men in trouble zones--in an effort to seek peace for all.

After the collapse of the Twin Towers, fears about terrorism and Muslim culture went hand in hand. Gay Travels in the Muslim World enters the current war zones to bring real and very personal stories of gay men who live and travel in these dangerous areas. This book challenges readers' preconceptions and assumptions about both homosexuality and being Muslim, while showing the wide range of experiences--good and bad--about the regions as well as the differences in attitudes and beliefs.

Excerpts from Gay Travels in the Muslim World:

From "I Want Your Eyes" by David Stevens
Men by themselves are rare. I pass a handsome Omani man sitting on the Corniche wall with a cigarette between his long brown fingers. He wears his colourful cuma cap at a jaunty angle and his mustard-coloured dishdasha has risen up to reveal tantalizingly hairy calves. I note the carefully made holes in his ears--not in his ear lobes but deep inside the cartilages--a pre-Islamic custom still practiced on some male babies to ward off evil spirits. I decide it suits him.

From "It All Began with Mamadou" by Jay Davidson
Drawing definitive conclusions about a society after living here for a little more than a year is not a wise, safe, or responsible action on my part. If a society's culture is a mosaic of thousands of little tiles, then I like to think that what I have been able to piece together has been a tableau in which certain aspects have become discernable, some are a little less clear, and others remain in a way that I will never see as whole and comprehensible.

From "A Market and a Mosque" by Martin Foreman
Sylhet, Bangladesh: It's eight o'clock in the evening and Tarique and Paritosh are taking me out to look at the cruising spots. Until I flew in here this afternoon, all I knew of the provincial city and the surrounding area was that it was where most of the Bangladeshis in the UK come from--and since most of the Bangladeshis in the UK live in my home borough of Tower Hamlets, I feel a kind of affinity with the place. Whether or not Sylhet feels an affinity with me is a different matter.

From "Work In Progress: Notes From A Continuing Journey of Manufacturing Dissent" by Parvez Sharma
In the construction of the image and life of the "queer" Muslim is also the awareness of the not so well known fact that a sexual revolution of immense proportions came to the earliest Muslims, some 1,300 years before the West had even thought about it. This promise of equal gender rights and, unlike in the Bible, the stress on sex as not just reproduction but also enjoyment within the confines of marriage has all but been lost i.