The Complete Fenelon (Paraclete Giants) (Paperback)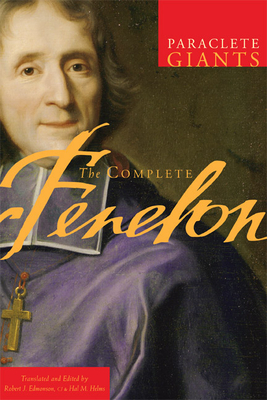 $26.99

NOT on our shelves - Usually Ships in 1-5 Days
Description
---
The most engaging collection of the French mystics' writings now available

Twenty-first century Christians are now discovering the wisdom of this controversial theologian and spiritual thinker. Fénelon showed how it was possible to have devotion and faith in the original Age of Reason. In many respects, rationality still rules today in religion and culture, and as a result, Fénelon speaks to modern Christians wanting deeper faith and a meaningful inner life.

His writings have never been as accessible as they are now in these lively new translations. The Complete Fénelon includes more than one hundred of Fénelon's letters of spiritual counsel, as well as meditations on eighty-five other topics. Also translated here into English for the first time are Fénelon's personal reflections on twenty-one seasons and holidays of the Christian year. An introduction from bestselling translator Robert J. Edmonson and in-depth recommended reading and bibliography make this the first place to start in any study of Francois Fénelon.
About the Author
---
Robert J. Edmonson, CJ, holds a certificate in French from the University of Montpellier (France) and degrees in French from the University of Miami and Middlebury College. His translations—including one of the world's best-selling English-language editions of The Story of a Soul—have sold 100,000 copies.

François Fénelon was a seventeenth-century French archbishop who rose to a position of influence in the court of Louis XIV. Amid the splendor and decadence of Versailles, Fénelon became a wise mentor to many members of the king's court. Later exiled for political reasons, he set out to improve the lot of peasants of his diocese. His letters of counsel and spiritual meditations have found a wide audience for more than three centuries.