Missouri (Paperback)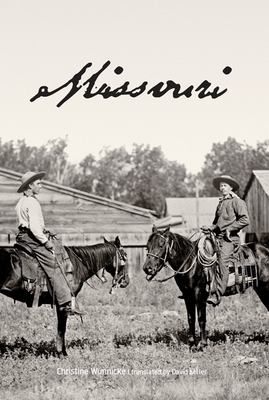 $12.95

NOT on our shelves - Usually Ships in 1-5 Days
Description
---
This earnest, violent, yet utterly transfixing gay love story is set in the nineteenth-century American Midwest. Douglas Fortescue is a successful poet who flees England for America following a scandal; Joshua Jenkins is a feral young outlaw who was taught how to shoot a man at age six. The two men meet when Joshua robs Douglas' carriage and takes him hostage; soon, a remarkable secret is revealed, and these two very different men grow closer, even as Douglas' brother tries to "save" him from his uncivilized surroundings.
First published in Germany, Missouri is available in English for the first time.
About the Author
---
Christine Wunnicke lives in Munich, Germany. She has published four award-winning novels, a biography, translations as well as both documentary and literary radio programmes. Missouri, first published in Germany in 2006, is her first book available in English. David Miller is a literary translator who has translated many books from German to English, including the graphic novel Roy & Al by Ralf Konig. He lives in London, UK.
Praise For…
---
"We loved it. With surprises around each turn of the plot, this beautiful love story shows two totally opposite and very memorable characters who grow more and more alike throughout their relationship. Chosen as one of the GLBTRT Over the Rainbow Project Top Eleven for 2011, Missouri will no doubt become another classic like Brokeback Mountain." American Library Association GLBT Round Table

"Missouri blends Americans and Englishmen, guns and poetry, cowboys and aristocrats, creating a compelling work that's both entertaining and thought-provoking." Gay & Lesbian Review

"Beautifully translated.... The usual point of comparison with prose featuring cowboys is Brokeback Mountain, but Missouri is not really anything like the now infamous Annie Proulx story. Wunnicke's writing is just enough; each segment of her novel is sublimely considered and executed." Attitude

"Douglas Fortescue is a vaunted British poet and aesthete forced to flee to mid-1800s America with his brother after an Oscar Wildean scandal; orphaned Joshua Jenkyns is a wild-lad outlaw terrorizing the Midwest while carrying in his saddlebags Fortescue's collections of poetry - enigmatic words that speak to the boy's unarticulated sexual longings. Wunnicke's depiction of their doomed love, beautifully bleak and emotionally astute, is a most uncommon gay romance." Richard Labonte, Book Marks