Birds Everywhere (Animals Everywhere) (Hardcover)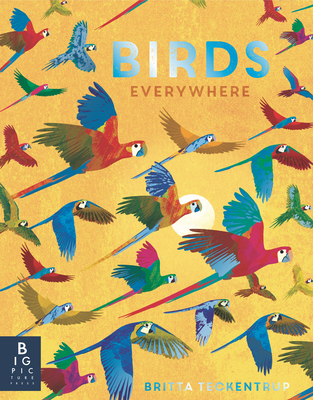 Description
---
Best-selling illustrator Britta Teckentrup explores the world of birds in a sumptuously illustrated nonfiction book.

There are birds everywhere! Some of them live along the coast, some of them in the savannah, and some may be in your backyard. Young readers will learn where in the world all sorts of birds can be found and all the weird and wonderful things about them that they never imagined. This is the fourth book in a popular nonfiction series that sparks with personality.
About the Author
---
Camilla de la Bedoyere has a background in zoology and has written more than two hundred books for children and adults, many of which explore the natural world. She has also worked as a journalist, editing a children's page in a national newspaper, and as a specialist reading teacher. A Fellow of the Zoological Society of London, she lives in London with her family.

Britta Teckentrup's strikingly beautiful picture books have been published in more than twenty countries, and her work has been short-listed for the Kate Greenaway Medal. Her books include Where's the Baby?, One Is Not a Pair, and Don't Wake Up the Tiger, and she is also the illustrator of The House by the Lake written by Thomas Harding. Born in Hamburg, she now lives with her family in Berlin, Germany.
Praise For…
---
Besides the interesting facts, most spreads include an invitation to take a more careful look. . . An inviting, accessible, information-filled package.
—Kirkus Reviews

Birds present an astonishing range of colors, sizes, and behaviors, and though no book can cover the incredible variety, this one gamely gives it a go, packing an impressive amount of diversity into a slim survey of the subject. . . . The lively digital illustrations are glorious; younger readers delight in the riot of color and movement, older children will find a wealth of astonishing facts, and all ages will discover new details upon every further examination. A sensational introduction to the weird and wonderful world of birds.
—Booklist

This encyclopedic look at how birds fly, eat, nest, migrate and survive all over the world will amaze young readers with its vivid illustrations and fact-filled pages. . . The whirlwind tour of the bird universe ends with tips on bird-watching and a reminder that 'we are learning to treasure our feathered friends and take better care of their habitats.'
—The Virginian Pilot

This highly browsable view into the world of birds is informative and visually compelling. . . this engaging title should spark curiosity for young bird enthusiasts.
—School Library Journal