Heretics and Orthodoxy (Paperback)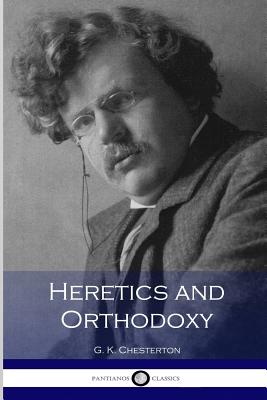 Description
---
This edition brings together two of G.K. Chesterton's most lauded collections of essays on spirituality, society and Christian apologetics.
Heretics is a superb collection of twenty essays by G.K. Chesterton, which sees the author rail against aspects of society he views as unfair and discriminatory.
Starting with the terms 'Orthodoxy' and 'Heretic', Chesterton derides modern society for having denigrated these words to the extent that they are synonymous with being, rather than being right. The attitude of modernity is argued to be both hypocritical and ridiculous - simultaneously lauding and destroying certain artists who would hold unusual beliefs and act on them.
A quote from the first essay:
"In the fifteenth century men cross-examined and tormented a man because he preached some immoral attitude: in the nineteenth century we feted and flattered Oscar Wilde because he preached such an attitude, and then broke his heart in penal servitude because he carried it out. It may be a question of which of the two methods was the more cruel: there can be no kind of question which was the more ludicrous. The age of the Inquisition has not at least the disgrace of having produced a society which made an idol of the very same man for preaching the very same things which it made him a convict for practising."
--
In Orthodoxy, G.K. Chesterton sets out his ideas and thoughts on the subject of Catholic and Christian principles, and how humans spiritual and worldly needs correspond to each.
The collection of essays each cover a topic specific to religion and its place in modern life.
Intended to be a companion for G.K. Chesterton's earlier work essays titled Heretics, this book is an ebullient rejoinder to the theological field after certain contemporaries had criticised his earlier efforts. The results are excellent: a succession of essays which combine the plain spoken and good humoured style which Chesterton made his own with the essential logic and reason that underpinned his arguments for faith and spiritualism.
Eternally fresh for its timeless arguments, Orthodoxy was lauded upon its original release in 1908, and is today considered a classic in the field of Christian apologetics. The legacy of Chesterton as an impassioned writer and author on themes of spirituality has led to calls for posthumous canonization by figures within the Catholic church.
Characterised by his easily digestible style, ready use and exposure of paradox, and his use of wit and humour to advance argument, Chesterton's fiction and non-fiction writings on the topics of human behaviour and wider society remain relevant and poignant to this day.
About the Author
---
G.K. Chesterton was born in 1874 in the district of Kensington - London, England. After studying art at the Slade School, and literature at University College in London, the young writer embarked on what was to become a daring and unique literary career. Although his greatest desire was to be known as a journalist, Chesterton would also author volumes of poetry, together with piercing criticisms of contemporary society and its views. His fiction works would sell well, with titles such as "The Man Who Was Thursday", a thriller combining espionage and metaphysics, and "The Everlasting Man", which chronicles mankind's spiritual journey. Following his authorship of many essays surrounding Christianity and Catholicism, Chesterton converted to Catholicism in 1922. The author is also popularly known for his Father Brown books - a priest and detective, this popular character first appeared in "The Innocence of Father Brown". Chesterton died of heart failure at home in 1936, and was posthumously lauded and venerated by figures both literary and religious. In the 21st century, he has been considered a possible figure for canonization for his ample writings on Christianity.