Sandra Boynton's My Family & Friends Birthday Perpetual Calendar (Calendar)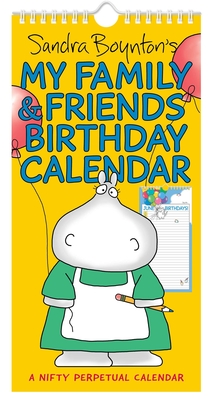 Description
---
Never again forget Uncle Stu's birthday, Grammy and Grandpa's anniversary, or the gotcha day of your emotional support Gila Monster (Fluffy). This perpetual wall calendar by beloved cartoonist and children's author Sandra Boynton will help you remember.
Showcasing Boynton's zesty animal characters in full color, each monthly page delivers ample space to record the annual mileposts of those dear to you. One caveat: you must fill in the calendar with the yearly events you wish to recall AND refer to the calendar. Otherwise, you will fail again at expressing timely birthday accolades to Stuart. 
Features include:
6" x 12" size
Printed on FSC certified paper with soy-based ink
Spiral binding with hanger
Undated and reusable each year
Presented by Sandra Boynton's captivating animal characters
About the Author
---
Sandra Boynton is a popular American cartoonist, children's author, songwriter, producer, and director. Since 1974, Boynton has written and illustrated over sixty children's books and seven general audience books, including five New York Times Bestsellers. More than 70 million of her books have been sold, "mostly to friends and family," she says. She has also written (with Michael Ford) and produced six albums of renegade children's music. Three of her six albums have been certified Gold (over 500,000 copies sold), and "Philadelphia Chickens," nominated for a Grammy, has been certified Platinum (over 1 million copies sold.) Boynton has also directed twelve music videos of her songs, including the award-winning "One Shoe Blues" starring B. B. King, "Alligator Stroll" starring Josh Turner, and "Tyrannosaurus Funk" (animation) sung by Samuel L. Jackson. She lives in rural New England, where her studio is in a barn with perhaps the only hippopotamus weather vane in the United States.