The Big Black Book of Sex Positions: Take Your Sex Life From Boring To Mind-Blowing in a Few More Than 69 Moves (Hardcover)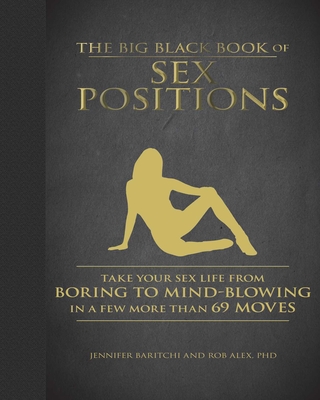 Description
---
Get ready to take your sex life to a whole-new level. Here is an oversize, full-color guide to heat up any bedroom with these tantalizing positions that will enhance your sex, impress your partner, and make lovemaking more fun than ever for you.
Within this accessible and approachable guide, you'll find exciting and steamy sex positions for penetrative and oral sex, including:
Missionary, Butterfly, Cowgirl
Amazon, Cowgirl, Hot Seat
Spread Eagle, Face Straddle, Leg Up
Deepthroat Handstand, Peek-a-Boo
Lots Pretzel, See Saw
Dancer, Ballerina, Bodyguard
The authors also offer sections on foreplay, toys, setting the mood, exercises to improve your performance and flexibility, BDSM, sex positions for the overweight, why size only matters when it's wrong, and many other burning topics that are often overlooked.
"We hope this book and all of the positions and adventures inside add much more passion and fun to your sex life. And, in addition, it will create something special and magical for each and every one of you. Take the risk, and at least try each and every one of these positions. It will create a deeper sexual connection with your lover, as well as a more intimate, stronger love for one another."
About the Author
---
Jennifer Baritchi is the co-founder of "Ask Dan and Jennifer," a blog and online resource that has been referred to as "Today's #1 Love & Sex Resource." "Ask Dan and Jennifer" has achieved a reader base of more than one million readers per month, and their very successful YouTube channel has accumulated more than sixty-five million views. Dan and Jennifer live, work, and play in Frisco, TX.

Rob Alex, PhD is known as the Guru of Getting It On or "Mr. Frisky" as Janelle calls him. In 2009, he started writing Sexy Challenges, which are sacred and sensual scenarios for lovers. After his spiritual awakening in 2010, which happened due to transcendent lovemaking experiences, he brought more spiritual perspectives into his work. He teaches men and couples how to use ancient wisdom to deepen their intimacy, create more sexual energy and direct that sexual energy to develop amazing relationships, manifest more income and live the life of their dreams.