Girl on a Wire: Walking the Line Between Faith and Freedom in the Westboro Baptist Church (Paperback)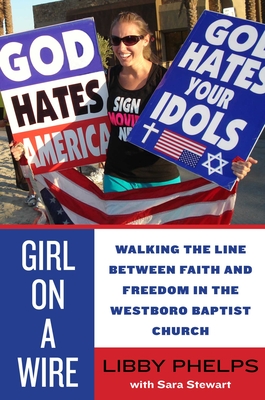 $16.99

If not in stock, we can Special Order from the publisher
Description
---
It wasn't until Libby Phelps was an adult, a twenty-five-year-old, that she escaped the Westboro Baptist Church. She is the granddaughter of its founder, Fred Phelps, and when she left, the church and its values were all she'd known. She didn't tell her family she was leaving. She ran into her house, grabbed a bag, and fled. No goodbyes.

Based in Topeka, Kansas, the Westboro Baptist Church community is one of the country's most notorious evangelical groups. Its zealous members are known for their boisterous picketing, brandishing antimilitary, anti-Semitic, and antigay signs—"Thank God for Dead Soldiers," "God Hates Jews," or "Thank God for 9/11"—and their notorious catchphrase "God Hates Fags." Search for them online and you're directed to their website, www.godhatesfags.com. The church makes headlines in news across the country. It has seventy members, and 90 percent of them are part of Libby's family. They picket concerts, football games, other churches, and, most notoriously, the funerals of servicemen and victims of hate crimes. For its members, to question its rules is to risk going to hell.

In Girl on a Wire, Libby is candid about her experience and what's happened since her escape. This unusual memoir presents a rare inside look into a notorious cult and is an astonishing story of strength, bravery, and determination.
About the Author
---
Libby Phelps was part of the Westboro Baptist Church until she was twenty-five years old. She's participated in a BBC documentary titled America's Most Hated Family in Crisis, has been on The Today Show and Anderson Cooper Live, and featured in media such as the New York Post, Lost Angeles Times, and xojane.com. Today, she's a physical therapist and lives with her husband and son in Lawrence, Kansas.

Sara Stewart has been a features writer for the New York Post for over a decade and wrote an extensive profile of Libby for the Post in April 2013. She has also written features for The Contently Foundation for Investigative Journalism, Cosmopolitan, Glamour, the feminist site Women & Hollywood, and more. She splits her time between Brooklyn, NY and Indiana, PA.
Praise For…
---
"Very honest . . . surprising and powerful—I suppose we'd all like to believe that everything becomes much easier when you leave an oppressive environment. But of course, it doesn't work that way. In fact, life becomes more complicated."—Louis Theroux, documentarian

"Fascinating"--Booklist

"From the inside of one of America's most infamous churches, Phelps delivers a captivating study of how free speech can become a vehicle for cruelty and hatred."--Publishers Weekly

"Very honest . . . surprising and powerful—I suppose we'd all like to believe that everything becomes much easier when you leave an oppressive environment. But of course, it doesn't work that way. In fact, life becomes more complicated."—Louis Theroux, documentarian

"Fascinating"--Booklist

"From the inside of one of America's most infamous churches, Phelps delivers a captivating study of how free speech can become a vehicle for cruelty and hatred."--Publishers Weekly