Step-Training Workout: Quick and Effective Workouts for the Whole Body (Paperback)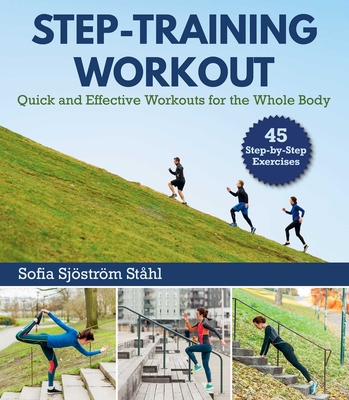 $12.99
On Our Shelves Now. Click on the title to see details.
Description
---
Dozens of fun, all-encompassing exercises as easy as taking the stairs!
Using a staircase, you can now easily do short intensive, interval training using only your own body weight. Give your body exactly what it needs—plenty of strength and conditioning—but without taking too much time out of your busy day or spending loads of money on a gym.

Learn to utilize the staircases in your everyday environment and maximize every step with this practical guide. Step-Training Workout contains sixty exercises along with suggestions on structuring your workouts into time-saving and utility-boosting intervals. Each exercise typically takes between 5 and 15 minutes and can be done on-the-go, on a lunch a break, or at home after a long day—perfect for anyone who can't fit in a full workout.

Whether you're just starting out or are an avid exerciser, this book will add new, incredible workouts to your repertoire. With Step-Training Workout, you'll learn how to get fit fast and feel great!

"It has been a pleasure watching Skyhorse Publishing develop into one of the largest and fastest-growing independent publishers over the last decade. Trident does a good deal of business with Skyhorse. Skyhorse has become a cornerstone of independent publishing and has taken its rightful seat in the world of major trade publishing."
–Robert Gottlieb, chairman of Trident Media Group, LLC
About the Author
---
Sofia Sjostrom Stahl operates one of the largest health blogs under the name of PT-Fia. In addition to hosting her own podcast and teaching online courses on health, she has previously published the PT-Fia's Top Ten in her native Swedish.