Categorically Famous: Literary Celebrity and Sexual Liberation in 1960s America (Post*45) (Paperback)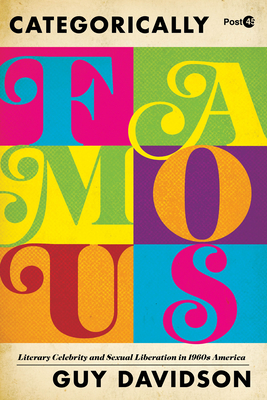 Description
---
The first sustained study of the relations between literary celebrity and queer sexuality, Categorically Famous looks at the careers of three celebrity writers--James Baldwin, Susan Sontag, and Gore Vidal--in relation to the gay and lesbian liberation movement of the 1960s. While none of these writers "came out" in our current sense, all contributed, through their public images and their writing, to a greater openness toward homosexuality that was an important precondition of liberation. Their fame was crucial, for instance, to the growing conception of homosexuals as an oppressed minority rather than as individuals with a psychological problem.
Challenging scholarly orthodoxies, Guy Davidson urges us to rethink the usual opposition to liberation and to gay and lesbian visibility within queer studies as well as standard definitions of celebrity. The conventional ban on openly discussing the homosexuality of public figures meant that media reporting at the time did not focus on his protagonists' private lives. At the same time, the careers of these "semi-visible" gay celebrities should be understood as a crucial halfway point between the era of the open secret and the present-day post-liberation era in which queer people, celebrities very much included, are enjoined to come out.
About the Author
---
Guy Davidson is Associate Professor of English Literatures at the University of Wollongong.