Hillbilly DIY Remedies: Homemade, Organic, And Natural Healing Recipes From Grandma To You (Paperback)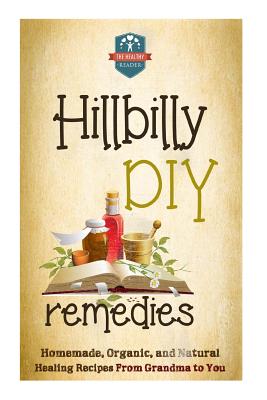 $7.97
Email or call for price.
Description
---
Discover How The Hillbilly DIY Remedies Book Can Give You Simple Solutions For Common Ailments It is not always easy to get the car out and rush to the doctor for every little ailment that affects your family. Surely there are ways through which you can take care of those boils and pimples without spending large sums of money on chemical treatments. What we forget, in our rush to get a quick fix for all our illnesses and conditions, is that nature has given us many ways by which we can quickly zap away those painful problems with little time and effort "Hillbilly DIY Remedies" shows you how you can use herbs and spices available in your natural surroundings, along with everyday kitchen ingredients to administer quick treatments that have you and your loved ones back on their feet in a jiffy * * *LIMITED TIME OFFER 50% OFF (Regular Price $5.99)* * * Create Natural Remedies For Medical And Cosmetic Troubles This book will teach you little effective ways by which you can whip up treatments that are beneficial for people of all ages. You will learn how to treat fever, burns, boils and blisters as soon as they make their appearance. You will learn tricks that help eliminate body odor, bad breath and stains from your teeth You will also find out how cold and hot compresses are the solution to almost every ache and pain conceivable to the human body. Every tip in "Hillbilly DIY Remedies" will help you become the master of domestic natural remedies that solve a variety of problems with the least amount of effort. Download The Diy Hillbilly Remedies Ebook "Hillbilly DIY Remedies" is filled with a number of simple treatments that you can undertake ad apply within a matter of moments. Each of these remedies has been selected to offer you the best available cures from natures, while going easy on your pocket. Through this book you will learn: -Medicinal Remedies -Learn simple remedies to tackle illnesses such as fever, colds and coughs. -Find treatment for conditions such as minor burns, scarring, body odor and bad breath. -Cosmetic Remedies -Find ways by which to treat mild as well as stubborn cases of acne. -Read about how to effectively get rid of a hangover, maintain teeth and gums that are healthy, and treat sunburns. -Learn the importance of teas, compresses and oils -Discover how to brew quick herbal teas from arioso herbs and spices to help comfort your muscles and nerves -Understand the herbal oils that help in the treatment of ailments ranging from minor cuts and burns, to fever and head lice infections. You no longer have to rely on expensive alternatives to provide solutions for everyday problems. With the best of what nature has to offer you, let this book be your guide towards smart and healthy remedies for you and your loved ones. What You'll Know from "Hillbilly DIY Remedies" -Handy Remedy Reminders -Remedies for Everyday Ailments -Headaches -Ringworm Infection -Fever -Coughs -Colds -Earache -Fainting -Minor Burns -Cuts and Bruises -Sprains -Food Poisoning Remedy -Acne Treatments -Treating Boils and Blisters -Sunburn Remedies -Scar Remedies -For Body Odor -Hangover Cures -For Head Lice and Scabies -For Bad Breath -For Healthy Teeth Would You Like To Know More? Download and begin using the ideas in the "Hillbilly DIY Remedies" Ebook, and let the best of nature work it's magic in your home today Download Your Copy Right Now Just Scroll to the top of the page and select the Buy Button. ----- TAGS: hillbilly diy remedies, diy remedies, medicinal remedies, cosmetic remedies, natural remedies, diy books, hillbilly books.