Lady Romeo: The Radical and Revolutionary Life of Charlotte Cushman, America's First Celebrity (Paperback)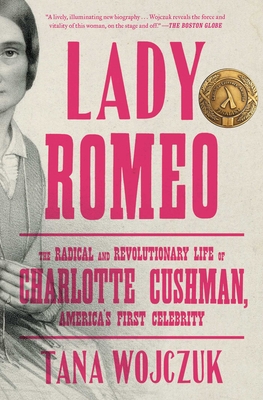 $17.00
Coming Soon - Available for Pre-Order Now
Description
---
For fans of Book of Ages and American Eve, this "lively, illuminating," and enthralling biography of trailblazing 19th-century queer actress Charlotte Cushman "reveals the force and vitality of this woman on the stage and off" (The Boston Globe).

All her life, Charlotte Cushman refused to submit to others' expectations. Raised in Boston at the time of the transcendentalists, a series of disasters cleared the way for her life on the stage—a path she eagerly took, rejecting marriage and creating a life of adventure, playing the role of the hero in and out of the theater as she traveled to New Orleans and New York City, and eventually to London and back to build a successful career. Her Hamlet, Romeo, Lady Macbeth, and Nancy Sykes from Oliver Twist became canon, impressing Louisa May Alcott, who later based a character on her in Jo's Boys, and Walt Whitman, who raved about "the towering grandeur of her genius" in his columns for the Brooklyn Daily Eagle. She acted alongside Edwin and John Wilkes Booth—supposedly giving the latter a scar on his neck that was later used to identify him as President Lincoln's assassin—and visited frequently with the Great Emancipator himself, who was a devoted Shakespeare fan and admirer of Cushman's work. Her wife immortalized her in the angel at the top of Central Park's Bethesda Fountain; worldwide, she was "a lady universally acknowledged as the greatest living tragic actress." Behind the scenes, she was equally radical, making an independent income, supporting her family, creating one of the first bohemian artists' colonies abroad, and living publicly as a queer woman. And yet, her name has since faded into the shadows.

Now, her story comes to brilliant life with Tana Wojczuk's Lady Romeo, an exhilarating and enlightening biography of "the first real American celebrity" (Chicago Review of Books). With new research and rarely seen letters and documents, Wojczuk "paints the past with words, and the reader is effortlessly drawn into a forgotten world" (Jonathan Lethem) featuring a cast of luminaries and revolutionaries who changed the cultural landscape of America forever. The story of an astonishing and uniquely American life, Lady Romeo reveals one of the most remarkable forgotten figures in our history and restores her to center stage, where she belongs.
About the Author
---
Tana Wojczuk is a senior nonfiction editor at Guernica and teaches writing at New York University. Previously, she has worked as an arts critic for Vice, Bomb Magazine, and Paste and as a columnist for Guernica. Other essays, criticism, and poetry have appeared in in The New York Times, Tin House, The Believer, Gulf Coast, Apogee, Lapham's Quarterly, The Rumpus, Narrative, Opium Magazine, and elsewhere. Tana has an MFA in nonfiction from Columbia University where she formerly taught. She was recently a finalist for the Gulf Coast Nonfiction Prize and has been a fellow at the Helene Wurlitzer Foundation residency and Tin House Summer Writers Workshop. Originally from Boulder, Colorado, she now lives in Brooklyn, New York.
Praise For…
---
"A lively, illuminating new biography… Wojczuk reveals the force and vitality of this woman, on the stage and off." —THE BOSTON GLOBE

"[A] galloping, atmospheric account of a remarkable woman: the first real American celebrity… It's a thrill and an inspiration to come to understand Cushman's bold aplomb in the pages of Lady Romeo." —CHICAGO REVIEW OF BOOKS

"Lady Romeo is a brisk read, packed with cinematic details and a smattering of Easter eggs sure to delight even the most hardboiled history buff." —AUTOSTRADDLE

"[A] brisk, vibrant biography… Wojczuk, a critic and editor, deftly conjures Cushman's milieu, her impact and, in vividly rendered moments rich with scenic detail, that most elusive of qualities: her presence. Cushman's life astonishes… Wojczuk's telling fizzes like champagne uncorked… This effervescent theater biography summons up a lost American age and a majestic queer radical." —SHELF AWARENESS

"Queer history stories can be worthy, but too scholarly, even snooze-inducing. Or they can grab you by the lapels and jolt you awake like a double shot of espresso. Lady Romeo: The Radical and Revolutionary Life of Charlotte Cushman, America's First Celebrity by Tana Wojczuk will keep you up at night. Turning the page – hungering for more. . . Wojczuk, brings Cushman, who lived from 1816 to 1876 and was as famous as Alcott, Ralph Waldo Emerson or Charles Dickens, vividly to life. As you read, you forget that you live in the 21st century." —THE WASHINGTON BLADE

"The name Charlotte Cushman may not mean much today, but in the mid-1800s she was a prominent stage actress who specialized in Shakespearean roles from Lady Macbeth to Romeo (her sister played Juliet). Cushman was also openly gay and her radical lifestyle and many same-sex relationships were the stuff of scandal. Wojcuzk's carefully researched biography, which draws heavily on Cushman's letters, paints a fascinating portrait of a true trailblazer." —NEWSDAY

"She left Louisa May Alcott stage-struck. She shocked Elizabeth Barrett Browning. She failed to impress Queen Victoria. She charmed Abraham Lincoln. And she made Henry James feel he had heard Shakespeare as he never would again. Once the empress of the stage, the indomitable nineteenth-century superstar Charlotte Cushman has been lost to us.Tana Wojczuk resurrects her here, charisma and originality intact. A brisk, beautifully crafted life of a pioneering actor who—on and off the stage—indeed seems to have been, as Wojczuk puts it, 'a better man than most men.'" —STACY SCHIFF, author of The Witches

"I've been waiting for a very long time for such an illuminating appraisal of Charlotte Cushman, a major and undervalued figure in nineteenth-century America. What Tana Wojczuk accomplishes here is thrilling. This is a timely book and will be valued by anyone interested in the life and times of a defining figure in American culture." —JAMES SHAPIRO, author of Shakespeare in a Divided America

"Lady Romeo is a magnificent portrait of Charlotte Cushman, a woman whose name I had never known and now will never forget. Tana Wojczuk tells the story of this remarkable life in a sensuous, smart, and very real way that had me uttering 'Wow' out loud every page I turned. By the end, I was deeply in love with Charlotte, and I know that readers will be, too." —MOLLY SCHIOT, author of Game Changers and creator of @TheUnsungHeroines

"Tana Wojczuk's method in Lady Romeo is simple and dazzling. Chapter by chapter, she paints the past with words, and the reader is effortlessly drawn into a forgotten world." —JONATHAN LETHEM

"Charlotte Cushman did not thrill just audiences. She thrilled her very surroundings. The wood of the theater's seats and bannisters grew more solemn and still, the moonlight on the facade grew more silvery and remote, when she held forth as Lady Macbeth. Tana Wojczuk's entertaining book tells the story of a great American actress." —ALEXANDER NEMEROV, author of Acting in the Night: Macbeth and the Places of the Civil War

"In this engaging and entertaining biography, Wojczuk packs the narrative with well-chosen, vibrant details of Cushman's life as she traveled and worked at a variety of theaters... Wojczuk successfully reinvigorates this significant 19th-century artist. An animated, refreshingly vivid biography of a woman who made the stage her home." —KIRKUS REVIEWS (Starred)

"A brisk and vivid biography of actor Charlotte Cushman (1816–1876), who captivated audiences while breaking 19th-century America's strict gender rules... Wojczuk enriches her portrait with lively theater gossip and detailed discussions of 19th-century class, social, and gender codes. This enthralling history restores Cushman to her rightful place in the spotlight." —PUBLISHERS WEEKLY