The Lava Witch (A Dark Paradise Mystery #3) (Mass Market)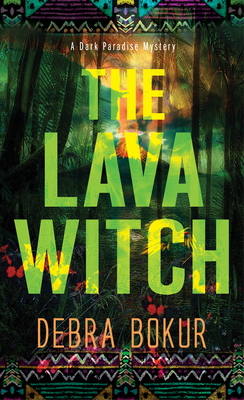 Other Books in Series
This is book number 3 in the A Dark Paradise Mystery series.
Description
---
As Maui detective Kali Māhoe investigates a bizarre ritual murder near Hawaii's Haleakala Volcano, the hard facts collide with local legends of spirit possession and sorcery in celebrated travel writer Debra Bokur's third Dark Paradise Mystery…

In a remote, mountainous area of a Maui forest near Haleakala volcano, the naked body of a young woman is found hanging from a tree. The nostrils, mouth, and lungs are packed with lava sand. Her hands are bound in twine. Her feet are charred and blackened, suggesting a fire-walking ceremony. For Detective Kali Māhoe, all signs point toward ritual torture and murder.

But Kali's investigation leads her down a winding trail of seemingly unconnected clues—from the hanging tree itself, a rare rainbow eucalyptus, to rumors of a witch haunting the high areas of the forest, to the legend of the ancient Hawaiian sorceress Pahulu, goddess of nightmares. Casting a shadow over it all—the possibility of a Sitting God, a spirit said to invade and possess the soul. Aided by her uncle Police Captain Walter Alaka'i, Officer David Hara, and the victim's brother, Kali embarks down the darkest road of all. One that is leading to the truth of the mountain's deadly core and a dark side of the island for which even Kali is unprepared.
About the Author
---
Debra Bokur is a journalist, editor, screenwriter, illustrator, and author of the acclaimed Dark Paradise Mystery Series set in the Hawaiian Islands. Her writing frequently delves into topics of magic, legend, animals, spirituality and the mystical, and her work has appeared in a variety of outlets, including National Geographic Traveler, Islands, Spa Magazine, Experience Life Magazine, Natural Home, Yoga Journal, Global Traveler, and Women's Adventure. She is the recipient of the 2015 Lowell Thomas Travel Journalism Award and has been a member of the Society of American Travel Writers since 2002. She lives in Colorado and can be found online at DebraBokur.com.
Praise For…
---
Praise for Debra Bokur's Dark Paradise Mysteries:

"This procedural keeps readers guessing all the way to the gratifying solution. Fans of Tony Hillerman will be enthralled." —Publishers Weekly STARRED REVIEW on The Lava Witch
"A cool police procedural with engaging characters and fascinating components."—Kirkus on The Lava Witch

"The Lava Witch, the third installment in Debra Bokur's acclaimed Dark Paradise series is a solid police procedural with immersive, atmospheric plot."—Mystery Tribune on The Lava Witch

"Debra Bokur's page-turning debut novel covers all the bases: individualistic lead, check; Hercule Poirot-level detection skills, check; plot-driven narrative that does not neglect other stylistic elements, check. It earns bonus points for depicting a lovely palm-ringed island destination, warts and all (high crime rate, the endless enmity of the haves and the have-nots). Even paradise has a seamy underbelly." —Bookpage on The Fire Thief
 
"Wonderfully atmospheric…immersive, thoroughly researched tale of mystery and mythology that will enlighten as well as entertain." —Criminal Element on The Fire Thief
 
"All the elements of a great mystery—crackling tension, brisk pacing, a vibrant setting, and a flicker of paranormal...or is it?" —Wendy Corsi Staub, New York Times bestselling author on The Fire Thief
 
"Bokur's welcome debut nimbly contrasts the Hawaii of sun and golden beaches with its less well-known underbelly of poverty, discrimination, and crime. Fans of strong female cops will look forward to Kali's further adventures." —Publishers Weekly on The Fire Thief
 
"The allusions to Hawaiian history and mythology add a layer of reality to this novel, and as well as being interesting, may pique the reader into doing his own research into the story of the Hawaiian Islands…atmospheric and entertaining." —The New York Journal of Books on The Bone Field
 
"An exciting blend of Hawaiian folklore and mystery. From page one to a stirring finish, Debra Bokur delivers a real page-turner here. And Kali Māhoe, wonderfully rich, complicated, and compelling, is the real deal. I can't wait for her next adventure." —Tracy Clark, author of the Cass Raines Chicago Mystery series on The Fire Thief
 
"Debra Bokur explores the hidden back roads of Hawaii and grabs you from page one with an island procedural full of twists and turns while introducing a phenomenal and unique protagonist in Detective Kali Māhoe—tough, flawed, and perceptive. This clever and addictive novel surprises at every turn, so grab your sunglasses and enjoy the ride." —Edwin Hill, author of Little Comfort and The Missing Ones on The Fire Thief