The Ones Who Got Away (Mass Market)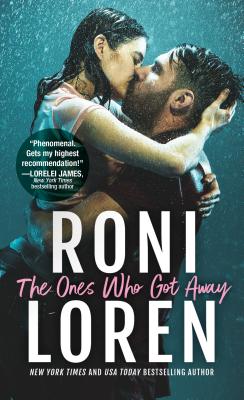 Other Books in Series
This is book number 1 in the The Ones Who Got Away series.
Description
---
There were only a few survivors of that one fateful night. Now, twelve years later, the kids once called The Ones Who Got Away are back…and ready to claim the lives they never truly got to live.
The goth girl and the popular boy
The best friends turned something more
Sworn enemies in love
The hot nerd and the life of the party
And their second chance to get things right
Liv Arias thought she'd never return to Long Acre—until a documentary brings her and the other survivors back home. Suddenly her old flame, Finn Dorsey, is closer than ever, and their attraction is still white-hot. When a searing kiss reignites their passion, Liv realizes this rough-around-the-edges man might be exactly what she needs…
Liv's words cut off as Finn got closer. The man approaching was nothing like the boy she'd known. The bulky football muscles had streamlined into a harder, leaner package and the look in his deep green eyes held no trace of boyish innocence.
Summer reading at its finest! Readers are raving about this white-hot, deeply emotional survival romance:
"Phenomenal. Gets my highest recommendation!"—LORELEI JAMES, New York Times and USA Today bestselling author
"Unforgettable… Roni Loren at her best!"—KRISTEN CALLIHAN, New York Times and USA Today bestselling author
"Unique, swoony, and lively. The Ones Who Got Away is the best kind of second-chance romance!"—SARINA BOWEN, USA Today bestselling author
"The Ones Who Got Away is EXACTLY what I love in romance; angsty, hot, conflicted, funny! Roni Loren delivers on all of it! Don't let this book get away!"—M. O'KEEFE, USA Today bestselling author
About the Author
---
Roni wrote her first romance novel at age fifteen when she discovered writing about boys was way easier than actually talking to them. Since then, her flirting skills haven't improved, but she likes to think her storytelling ability has. She holds a master's degree in social work and spent years as a mental health counselor, but now she writes full time from her cozy office in Dallas, Texas where she puts her characters on the therapy couch instead. She is a two-time RITA Award winner and a New York Times and USA Today bestselling author.
Praise For…
---
"Phenomenal. The Ones Who Got Away elevates Roni Loren's already amazing storytelling skills to the next level. This book will stick with you long after the last page is turned and it gets my highest recommendation!" — LORELEI JAMES, New York Times bestselling author

"Richly layered and full of emotion, The Ones Who Got Away is an unforgettable romance. Roni Loren at her best!" — KRISTEN CALLIHAN, New York Times and USA Today bestselling author of the Game On series

"Unique, swoony, and lively. The Ones Who Got Away is the best kind of second-chance romance!" — SARINA BOWEN, USA Today bestselling author of Stay

"Author Roni Loren managed to temper...heavy moments with hope, laughter, and the message to live your life without apologies. The Ones Who Got Away was a brilliant and hopeful love story." — Guilty Pleasures Book Reviews, 5 Stars

"Loren gifts readers with a crackling, heartfelt love story with just the right amount of angst. If you need a reason to believe in the immense possibilities of second chances, Loren's writing should do the trick." — Entertainment Weekly

"The survivors' courage is impressive, their camaraderie is extraordinary and the author's ability to make it all feel real is amazing." — RT Book Reviews

"I can't even tell you how awesome it feels to start out the new year with a book that I know will be on my "Best Of" list for 2018. I anticipate a reread in the near future because I'm simply not ready to walk away from this story yet." — Fiction Fangirls, 5 Stars

"This is such a perfect book and it's about finding love after a tragic past. Readers will fall in love with the characters." — Night Owl Reviews TOP PICK!

"Thoughtfully crafted. Unforgettable." — Kirkus Reviews

"The Ones Who Got Away is EXACTLY what I love in romance; angsty, hot, conflicted, funny! Roni Loren delivers on all of it! Don't let this book get away!" — M. O'KEEFE, USA Today bestselling author of Baby, Come Back