Latcrit: From Critical Legal Theory to Academic Activism (Paperback)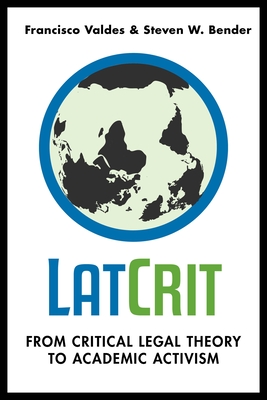 $34.56

NOT on our shelves - Usually Ships in 1-5 Days
Description
---
Examines LatCrit's emergence as a scholarly and activist community within and beyond the US legal academy
Emerging from the US legal academy in 1995, LatCrit theory is a genre of critical outsider jurisprudence--a vital hub of contemporary scholarship that includes Feminist Legal Theory and Critical Race Theory, among other critical schools of legal knowledge. Its basic goals have been: (1) to develop a critical, activist, and inter-disciplinary discourse on law and society affecting Latinas/os/x, and (2) to foster both the development of coalitional theory and practice as well as the accessibility of this knowledge to agents of social and legal transformative change. This slim volume tells the story of LatCrit's growth and influence as a scholarly and activist community. Francisco Valdes and Steven W. Bender offer a living example of how critical outsider academics can organize long-term collective action, both in law and society, that will help those similarly inclined to better organize themselves. Part roadmap, part historical record, and part a path forward,
LatCrit: From Critical Legal Theory to Academic Activism
shows that with coalition, collaboration, and community, social transformation can take root.
About the Author
---
Francisco Valdes (Author) Francisco Valdes is Professor of Law and Dean's Distinguished Scholar at University of Miami School of Law. Considered the "father" of LatCrit, he is the author of numerous law review articles and the co-editor of an acclaimed collection of essays on the history of Critical Race Theory, entitled Crossroads, Directions, and a New Critical Race Theory (Temple University Press 2002). Steven W. Bender (Author) Steven W. Bender is Professor of Law and Associate Dean for Planning and Strategic Initiatives at Seattle University School of Law. He is the author of Mea Culpa: Lessons on Law and Regret from US History (NYU Press, 2015), Run for the Border: Vice and Virtue in U.S.-Mexico Border Crossings (NYU Press, 2012), Tierra y Libertad: Land, Liberty, and Latino Housing (NYU Press, 2010), and Greasers and Gringos: Latinos, Law, and the American Imagination (NYU Press, 2003).