Mental Health Evaluations in Immigration Court: A Guide for Mental Health and Legal Professionals (Psychology and Crime) (Paperback)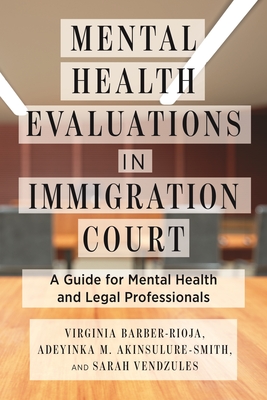 $44.80

NOT on our shelves - Usually Ships in 1-5 Days
Description
---
A timely and important contribution to the study of immigration court from a psychological perspective
Every day, large numbers of immigrants undertake dangerous migration journeys only to face deportation or "removal" proceedings once they arrive in the U.S. Others who have been in the country for many years may face these proceedings as well, and either group may seek to gain lawful status by means of an application to USCIS, the benefits arm of the immigration system.
Mental Health Evaluations in Immigration Court
examines the growing role of mental health professionals in the immigration system as they conduct forensic mental health assessments that are used as psychological evidence for applications for deportation relief, write affidavits for the court about the course of treatment they have provided to immigrants, help prepare people emotionally to be deported, and provide support for immigrants in detention centers. Many immigrants appear in immigration court-often without an attorney if they cannot afford one-as part of deportation proceedings. Mental health professionals can be deeply involved in these proceedings, from helping to buttress an immigrant's plea for asylum to helping an immigration judge make decisions about hardship, competency or risks for violence. There are a whole host of psycho-legal and forensic issues that arise in immigration court and in other immigration applications that have not yet been fully addressed in the field. This book provides an overview of relevant issues likely to be addressed by mental health and legal professionals.
Mental Health Evaluations in Immigration Court
corrects a serious deficiency in the study of immigration law and mental health, offering suggestions for future scholarship and acting as a vital resource for mental health professionals, immigration lawyers, and judges.
About the Author
---
Virginia Barber-Rioja (Author) Virginia Barber-Rioja is Co-chief of Mental Health for Correctional Health Services/New York City Health and Hospitals and Adjunct Professor in the Psychology Department at New York University. Adeyinka M. Akinsulure-Smith (Author) Adeyinka M. Akinsulure-Smith is Professor of Psychology at the City College ofNew York at the City University of New York (CUNY) and the CUNY Graduate Center. She isalso Senior Staff Psychologist at the Bellevue Program for Survivors of Torture. Sarah Vendzules (Author) Sarah Vendzules is a Senior Staff Attorney at the Office of the Appellate Defender. She has taught at Brooklyn Law School and New York University School of Law.