She Made Me Laugh: My Friend Nora Ephron (Hardcover)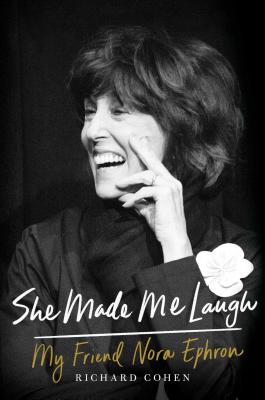 $27.00
Email or call for price.
Description
---
"A portrait that's both complex and moving...Nora would be pleased." —People (Book of the Week)

Nora Ephron, one of the most famous writers, film makers, and personalities of her time is captured by her long-time and dear friend in a hilarious, blunt, raucous, and poignant recollection of their decades-long friendship.

Nora Ephron (1941–2012) was a phenomenal personality, journalist, essayist, novelist, playwright, Oscar-nominated screenwriter, and movie director (Sleepless in Seattle; You've Got Mail; When Harry Met Sally; Heartburn; Julie & Julia). She wrote a slew of bestsellers (I Feel Bad About My Neck: And Other Thoughts on Being a Woman; I Remember Nothing: And Other Reflections; Scribble, Scribble: Notes on the Media; Crazy Salad: Some Things About Women). She was celebrated by Hollywood, embraced by literary New York, and adored by legions of fans throughout the world.

Award-winning journalist Richard Cohen, wrote this about his "third-person memoir": "I call this book a third-person memoir. It is about my closest friend, Nora Ephron, and the lives we lived together and how her life got to be bigger until, finally, she wrote her last work, the play, Lucky Guy, about a newspaper columnist dying of cancer while she herself was dying of cancer. I have interviewed many of her other friends—Mike Nichols, Tom Hanks, Steven Spielberg, Meryl Streep, Arianna Huffington—but the book is not a name-dropping star turn, but an attempt to capture a remarkable woman who meant so much to so many other women."
About the Author
---
Richard Cohen is the former publishing director of Hutchinson and Hodder & Stoughton and the author of Chasing the Sun, By the Sword, and How To Write Like Tolstoy. Works he has edited have gone on to win the Pulitzer, Booker and Whitbread/Costa prizes, and twenty-one have been #1 bestsellers. For more than 35 years he has written, edited, and lectured on numerous subjects around the world, from talks on the Queen Mary 2 to the First World War battlefields of France and Belgium. For seven years he was a visiting professor in creative writing at the university of Kingston-upon-Thames in London. Among the authors he has edited are Madeleine Albright, Vanessa Redgrave, Sebastian Faulks, Studs Terkel, John Keegan, Richard Holmes, John le Carre, Jeffrey Archer, Sir Harold Evans, Tony Benn, Barbara Castle, William Trevor, Kingsley Amis and Fay Weldon. He is a Fellow of the Royal Society of Literature.
 
For two years he was program director of the Cheltenham Festival of Literature, and during his tenure it became the largest book festival in the world. Five times U.K. national saber champion, Cohen was selected for the British Olympic fencing team in 1972, 1976, 1980, and 1984 and has been four times world veteran champion.  He has written for the New York Times, the Wall Street Journal, the New York Times Book Review and most British quality newspapers.
Praise For…
---
"A portrait that's both complex and moving . . . Nora would be pleased."
— PEOPLE (book of the week)

"Gracious, elegant . . . Cohen captures a brilliant woman full of contradictions . . . A warm tribute to a rather bossy know-it-all companion in arms who was hugely talented and fiercely devoted."
— Kirkus Reviews

"If it's true that everyone did want Nora as their friend, after reading this lovely and loving memoir, it should be equally true that everyone should want Cohen as theirs. Muse and foil, colleague and crony, Cohen had access to all sides of this decidedly multifaceted woman and reveals not only those of the public Nora everyone admired but also the private Nora whom a very lucky few adored."
— Booklist, starred review

"A clear-eyed, episodic, and moving tribute . . . Cohen creates a portrait of the Ephron behind the public persona . . . Ephron proves a complex subject, but one who is clearly adored and greatly missed by Cohen. . . The most beautifully rendered portrait of her comes in the last few chapters, which chronicle the end of her life. Here, Cohen writes with emotion, perspective, humor, and grace—the perfect combination, perhaps, to represent his dear friend."
— Publishers Weekly

"An eternal snapshot of America's most beloved female writer and filmmaker, as seen through the eyes of one of her closest companions. . . . There is a quality to [Cohen's] prose that shows the living, breathing person behind When Harry Met Sally, one that a regular biographer would be challenged to convey. . . . The book is timeless, but Cohen's crowning achievement comes in the final few chapters. Here, Cohen chronicles Ephron's final battles with the illness that would ultimately take her life. While I'd recommend picking up a family pack of Kleenex prior to reading, the emotion, humor, and perspective with which Cohen writes will uplift your spirits rather than drag them down."
— Hampton Sheet

"[A] very personal remembrance of [Ephron's] life and loves, and her ups and downs."
— USA Today

"She Made Me Laugh is more about the good times with Ephron than the bad. Cohen is a terrific writer, and his book is a fine tribute to a fascinating woman."
— Houston Chronicle

"A book from someone who truly was a friend of Ephron, a man who dined and traveled with her and heard many an amusing anecdote that didn't make it into an essay or a zippy line of film dialogue. . . . Cohen offers the nuanced perspective of a confidant."
— The Washington Post