Search for Books
ABA Mobile Menu
Alexander McQueen: Blood Beneath the Skin (Hardcover)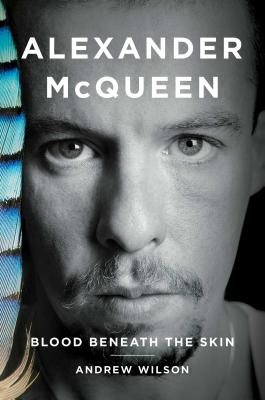 Hard to Find - May not be reprinted
Description
---
The first definitive biography of the iconic, notoriously private British fashion designer Alexander McQueen explores the connections between his dark work and even darker life.

When forty-year-old Alexander McQueen committed suicide in February 2010, a shocked world mourned the loss. McQueen had risen from humble beginnings as the son of an East London taxi driver to scale the heights of fame, fortune, and glamour. He designed clothes for the world's most beautiful women and royalty, most famously the Duchess of Cambridge, who wore a McQueen dress on her wedding day. He created a multimillion-dollar luxury brand that became a favorite with celebrities including Kate Moss and Naomi Campbell.

But behind the confident facade and bad-boy image, lay a sensitive soul who struggled to survive in the ruthless world of fashion. As the pressures of work intensified, McQueen became increasingly dependent on the drugs that contributed to his tragic end. Meanwhile, in his private life, his failure to find lasting love in a string of boyfriends only added to his despair. And then there were the dark secrets that haunted his sleep…

A modern-day fairy tale infused with the darkness of a Greek tragedy, Alexander McQueen tells the complete sensational story, and includes never-before-seen photos. Those closest to the designer—his family, friends, and lovers—have spoken for the first time about the man they knew, a fragmented individual, a lost boy who battled to gain entry into a world that ultimately destroyed him.

"There's blood beneath every layer of skin," McQueen once said. Andrew Wilson's biography, filled with groundbreaking material, dispels myths, corrects inaccuracies, and offers new insights into McQueen's private life and the source of his creative genius.
About the Author
---
Andrew Wilson is an award-winning journalist and author. His work has appeared in a wide variety of publications including the Guardian, the Washington Post, the Sunday Times, and the Smithsonian Magazine. He is the author of four acclaimed biographies, a book about the survivors of the Titanic, and the novels, The Lying Tongue, A Talent for Murder, A Different Kind of Evil, Death in a Desert Land.
Praise For…
---
"Presents a thorough and emotionally compelling exploration of the life, work, and inner demons of fashion designer Alexander McQueen....Wilson paints vivid portraits of McQueen's family and friends....a fully realized representation of a complex and enigmatic artist."

[In] Andrew Wilson's magnificent biography...[Alexander McQueen] comes across as a modern-day Mozart, unpredictable, rebellious, kind, witty, clever, scatalogical, but always with the unique talent and creative genius shining through...bounds across the pages and is brought to life by extensive interviews with family and friends...McQueen has got in Wilson the biographer he deserves.

"Wilson's compelling and heavily researched bio…has already been published to rave reviews in Britain."

"Wilson's storytelling is crisp as he offers new insights into McQueen's short life...[and] provides unprecedented access to a misunderstood soul."

"My work is like a biography of my own personality," the late fashion designer Alexander McQueen said, a thought that informs the structure of this account of his life and work. Detailed discussion of his sometimes macabre runway shows reveals a man obsessed with death and spectacle and haunted by childhood sexual abuse. Wilson reads in McQueen's clothes a complicated relationship with women. Some critics, observing the near-brutality of the shows—one featured a model whose mouth was splayed open by metal braces—charged McQueen with misogyny, but Wilson sees the more extreme costumes as "armor," a "sartorial force field," and, perhaps, an invitation to empowerment.