Search for Books
ABA Mobile Menu
Equipment for Living: On Poetry and Pop Music (Hardcover)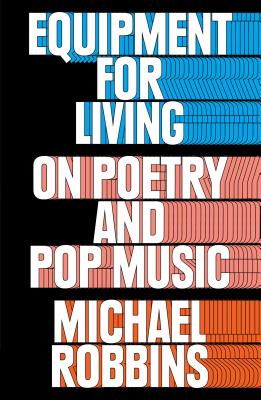 Hard to Find - May not be reprinted
Description
---
Brilliant, illuminating criticism from a superstar poet—a refreshing, insightful look at how works of art, specifically poetry and popular music, can serve as essential tools for living.

How can art help us make sense—or nonsense—of the world? If wrong life cannot be lived rightly, as Theodor Adorno had it, what weapons and strategies for living wrongly can art provide? With the same intelligence that animates his poetry, Michael Robbins addresses this weighty question while contemplating the idea of how strange it is that we need art at all.

Ranging from Prince to Def Leppard, Lucille Clifton to Frederick Seidel, Robbins's mastery of poetry and popular music shines in Equipment for Living. He has a singular ability to illustrate points with seemingly disparate examples (Friedrich Kittler and Taylor Swift, to W.B. Yeats and Anna Kendrick's "Cups"). Robbins weaves a discussion on poet Juliana Spahr with the different subsets of Scandinavian black metal, illuminating subjects in ways that few scholars can achieve. Equipment for Living is also a wonderful guide to essential poetry and popular music.
About the Author
---
Michael Robbins is the author of the poetry collections Alien vs. Predator and The Second Sex as well as the book Equipment for Living: On Poetry and Pop Music. His selected poems are featured in the second volume of the newly revived Penguin Modern Poets series. His poetry and criticism have appeared in The New Yorker, Poetry, The Paris Review, Harper's, Bookforum, and many other publications. He received his PhD in English from the University of Chicago and lives in Brooklyn with the best cat in the world.
Praise For…
---
"Equipment for Living is funny and smart."—Louis Menand, The New Yorker

"Ugh, there should be a law against being as smart as Michael Robbins. Here he is, interspersing these exhilarating micro-readings of modern poetry and pop music—which he treats, in a moving and 100% convincing way as a single tradition—with an overarching argument for the function of poetry! This book is itself "equipment for living," not to mention "a sad and angry consolation." It will depress you and uplift you and fill your head with music."—Elif Batuman, author of The Idiot and The Possessed

"Michael Robbins can deal up and down with Wallace Stevens and Taylor Swift, Gwendolyn Brooks and Def Leppard, Frederick Seidel and Prince. He has done all the reading about the form, function, and economy of art, but also done the feeling about the desire and need of it. Unashamed, he wants to rock. Won't you take a chance on him?"—Ben Ratliff, author of Every Song Ever and Coltrane

"This man can write."—Dwight Garner, The New York Times

"Equipment for Living sounds plausibly enough like a piece of technology in need of constant recharging. I took it with me on a recent tour through the bruised U.S. and no cords or batteries were needed. It ended up recharging me — funny, profane, insightful, petulant, elegant, heart-felt. Not that its heart is in the right place. Its heart is all over the place, which is where a good heart should be: spreading agony and consolation and devotion. We started out in Salt Lake City as fellow travelers leery of one another but by Nashville we were parting as friends determined to see each other again soon. (Don't miss the last chapter "Playlist"; it's the coda that reunites it all.)"—Mark Z. Danielewski, author of Only Revolutions and House of Leaves

"Freakishly original."—ELLE

"Robbins is erudite and meticulous, widely and deeply read, [and] an agile thinker… Equipment for Living insists at every turn that despite its inherent parasitism, criticism is a creative discipline—a venue for originality and exploration, for agon and jouissance. In short, an art form. I only wish more critics would follow his lead."—Los Angeles Times

"Michael Robbins might be the Baudelaire of 21st-century America."—Rain Taxi