The Trip: Andy Warhol's Plastic Fantastic Cross-Country Adventure (Hardcover)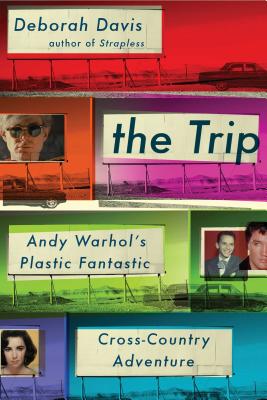 $26.00
Email or call for price.
Description
---
From the author of Strapless and Guest of Honor, a book about a little-known road trip Andy Warhol took from New York to LA in 1963, and how that journey—and the numerous artists and celebrities he encountered—profoundly influenced his life and art.

In 1963, up-and-coming artist Andy Warhol took a road trip across America. What began as a madcap, drug-fueled romp became a journey that took Warhol on a kaleidoscopic adventure from New York City, across the vast American heartland, all the way to Hollywood and back.

With locations ranging from a Texas panhandle truck stop to a Beverly Hills mansion, from the beaches of Santa Monica to a Photomat booth in Albuquerque, The Trip captures Warhol's interactions with Dennis Hopper, Peter Fonda, Marcel Duchamp, Elizabeth Taylor, Elvis Presley, and Frank Sinatra. Along the way he also met rednecks, beach bums, underground filmmakers, artists, poets, socialites, and newly minted hippies, and they each left an indelible mark on his psyche.

In The Trip, Andy Warhol's speeding Ford Falcon is our time machine, transporting us from the last vestiges of the sleepy Eisenhower epoch to the true beginning of the explosive, exciting '60s. Through in-depth, original research, Deborah Davis sheds new light on one of the most enduring figures in the art world and captures a fascinating moment in 1960s America—with Warhol at its center.
About the Author
---
Deborah Davis is the author of Fabritius and the Goldfinch; Guest of Honor: Booker T. Washington, Theodore Roosevelt, and the White House Dinner That Shocked a Nation; Strapless: John Singer Sargent and the Fall of Madame X; Party of the Century; and Gilded. She formerly worked as an executive, story editor, and story analyst for several major film companies. For more information, visit www.WarholRoadTrip.com and follow along on Instagram @WarholRoadTrip.
Praise For…
---
Praise for The Trip

"Fast-moving. Totally engrossing. Filled with fascinating details about Andy that even I didn't know."
— Pat Hackett, Andy Warhol's diarist and co-author

"Deborah Davis calls shotgun on Andy Warhol's era-defining 1963 cross-country road trip and thankfully takes us along for the ride. With electric storytelling and riveting prose, The Trip puts us right in the middle of the action as Andy crashed his way through Hollywood, Manhattan high society, and the heights of the art world."
— Kevin Kwan, bestselling author of Crazy Rich Asians

"Thanks to Deborah Davis I've just been on a cross country road trip to Hollywood with Andy Warhol: 1963, the year America lost its innocence. Sure, there's high gossip, lots of gossip—Andy wouldn't leave home without it—but also something much more. A way of seeing things that has made Andy Warhol not just one of the most coveted artists of our age but also one of the greatest philosophers of the 20th century."
— William Norwich, fashion editor, author of Learning to Drive

"AAA+ to Deborah Davis for her brilliant travelogue detailing Andy Warhol's 1963 cross-country adventure. Thanks to Andy's time capsules and Davis' meticulous research, The Trip transports you, 'shotgun,' into this legendary road trip."
— Timothy Greenfield-Sanders, photographer and filmmaker

"In The Trip…author Deborah Davis revivifies the era that made the man, and the man who helped define the era...A bang-up job!"

"…An accessible and original book…with a joie de vivre that might have delighted the man himself. As a jaunty romp through American pop-art history, the book is a light and entertaining read."

"Davis's prose mirrors the zeitgeist Warhol brought to his art: bright, breezy, and easy to understand…an entertaining and accessible introduction to his work and a beginner's guide to the social scene of the pop art world."

"Deborah Davis' 'The Trip: Andy Warhol's Plastic Fantastic Cross-Country Adventure' is both the story of Warhol's life at the moment just before stardom and a clever history of America during that period."

"Deborah Davis' chronicle of Warhol's travels on the hipster highway, Route 66, captures the moment the artist met Hollywood and became a superstar…quite convincingly makes the case that 1963 was the year when 'everything changed' not only for the famed American pop artist, but for the United States as well."

"In 1963, Andy Warhol drove from New York to Los Angeles with his friends Wynn Chamberlain, Gerard Malanga, and Taylor Mead. Deborah Davis's new book, The Trip, an examination of this cross-country journey, argues that the brief episode in Warhol's life was a turning point in the artist's career. It was a metaphorical passage to fame, allowing him to become the character for which he's remembered."

"Davis' copious research into the flotsam and jetsam of 1963 establishes the mood: She shows us the billboards lining Route 66, takes us into the motels and truck stops and listens to the pop songs on the radio…A good introduction to Warhol for pop art neophytes, The Trip will also appeal to readers eager to learn more about the Mad Men-era collision between art and advertising."