RSPB Gardening for Wildlife: New edition (Hardcover)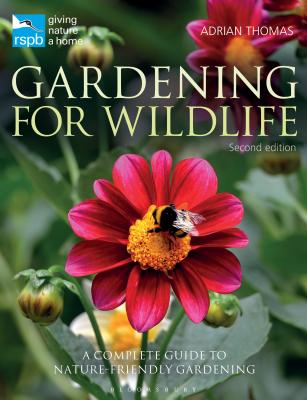 Description
---
There is something uplifting about having butterflies in your flowerbeds, frogs in your water feature and birds in your bushes, and knowing they're there because of you. Rich in detail and accessible in style, Gardening for Wildlife is the crucial companion to novices and expert gardeners alike. Adrian Thomas dispels myths and offers new insights and ideas, helping everyone understand what to do so gardens, large or small, can become ideal homes for wildlife.

Building on the success of the award-winning first edition, this expanded and updated edition reflects new research and developments in nature-friendly gardening.The book serves as an expert guide to the practical aspects of this rewarding pastime and educates readers about the ecological principles involved, while exploding commonly held misconceptions that often deter people from pursuing a kinder approach to gardening.

Adrian Thomas provides a detailed guide to the many and varied species of flora and fauna that can contribute to a natural and healthy garden. There are practical sections to help you create entire habitats, such as woodland and meadow gardens, and a catalog of the top 400 best garden flowers, shrubs and trees for wildlife, each illustrated in a color photograph. If you love wildlife and want to encourage more to visit your garden, this inspirational book will help you sow the seeds and reap the rewards.
About the Author
---
Adrian Thomas has had a lifelong fascination with nature and its conservation. He has worked for over eight years for the RSPB, where his job in the South-east region is to communicate the charity's vision through the media and interpret wildlife for visitors to RSPB reserves. His passion for gardening was kindled a decade ago when he got a plot he could call his own for the first time. He has been using this garden as a test bed for his ideas ever since. Adrian has won the Garden Media Guild New Talent Award for this book.
Praise For…
---
"Adrian Thomas's highly attractive book will inspire all those who pick it up to turn their gardens into wildlife sanctuaries." - Sunday Express

"An excellent book that brings together a lot of information in one place, challenges preconceived wisdom and manages to be informative and entertaining. It's possibly the most definitive work on the subject in recent years." - Garden Illustrated

"Written in a friendly tone, RSPB Gardening for Wildlife offers a huge amount of information . . . It will help you make the most of what you've got in your backyard." - BBC Wildlife

". . . stuffed with hundreds of colour photos and shows how wildlife gardening can fit any garden (and any gardener!)" - The Lady

"A practical and contemporary look at how to embrace the little pockets of wildlife that exist in every garden, this book teaches you how to create habitats for all manner of butterflies, bees and other creatures." - BBC Countryfile