Critical Critters (Hardcover)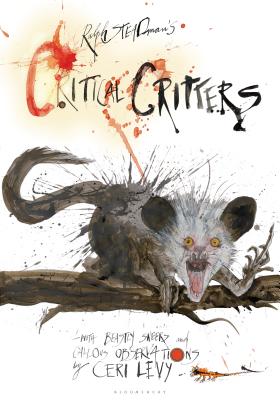 $50.00
Usually Ships in 1-5 Days
Description
---
Following on from Extinct Boids and Nextinction, Critical Critters is the third in this epic trilogy of books dedicated to extinct and critically endangered animals from cartoonist Ralph Steadman and film-maker Ceri Levy--the GONZOVATIONISTS.
Expect plenty more of what made the first two books so successful--unpredictable nonsense beasts, irreverent jokes, a diary-style record of the creative mayhem, and around 100 spectacular illustrations by Ralph of critically endangered mammals, insects, fish, lizards, and trees--a stunning collection, with a serious conservation message.
Ceri's humorous but meaningful message accompanied by Ralph's sensational paintings will satisfy art-lovers and conservationists alike.
About the Author
---
Ralph Steadman is a world-renowned cartoonist and caricaturist. Originally labelled a "gonzo" artist, he burst into the national consciousness by providing the illustrations for Hunter S. Thompson's Fear and Loathing in Las Vegas, and later his Fear and Loathing on the Campaign Trail '72. Since then, Ralph has provided illustrations for collections of poetry by Ted Hughes, Alice in Wonderland, and Animal Farm, and has even designed a set of stamps. Alongside a host of illustration credits, Steadman's previous books include Gonzo: The Art, Doodaaa: The Balletic Art of Gavin Tivinge, and The Joke's Over. For No Good Reason, a documentary about his life and work, was released in 2014.Ceri Levy is a renowned film-maker whose works include Bananaz, a documentary about the inner machinations of the group Gorillaz. Ceri has immersed himself within the world of nature since he started filming his documentary The Bird Effect several years ago. The natural world affected him so much that he upped and left the city to live in the wilds of the UK countryside where he now writes, sits under trees, and marvels at the landscape he has become a part of. Critical Critters is Ralph and Ceri's third book together, following Extinct Boids and Nextinction.