Up and Away!: How Two Brothers Invented the Hot-Air Balloon (Hardcover)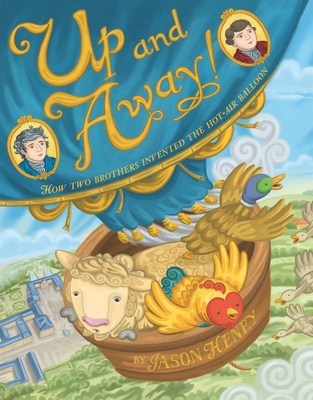 Description
---
"It will . . . sweep readers away." --Kirkus Reviews
"Henry's lush, digital artwork depicts the splendors of eighteenth-century France . . . a good addition to units on aviation and inventors." --Booklist More than a century before the Wright Brothers invented their plane, Josephand tienne Montgolfier sent a flying machine into the skies--a hot-air balloon with three animals in the basket. Go up, up, and away with them on their first, magical journey Back in 1782, in Ard che, France, lived Joseph Montgolfier, a dreamer and an inventor who liked to learn about how everything worked. When one day a gust of wind blew his papers into the fireplace, he noticed that something lifted the pieces into the air--and he realized that heat could make things rise. With the help of his brother, tienne, he began to experiment . . . and created a new kind of flying machine: a hot-air balloon This beautifully illustrated picture book tells the story of how the balloon came to be, King Louis XVI's visit to see it fly, and the three animals--a rooster, a duck, and a sheep--who became its very first passengers.
About the Author
---
Jason Henry is an author, illustrator, and book designer, is a Publishers Weekly Star Watch Honoree, and has received multiple awards for his book designs from The New York Book Show. Jason has contributed illustrations to award-winning titles such as Mysterious Messages by Gary Blackwood (Dutton Children's Books). He is also the designer of the 2016 Newbery Honor book, Roller Girl by Victoria Jamieson, New York Times bestselling titles such as Brad Meltzer's Ordinary People Change the World series, Dragons Love Tacos 2 by Adam Rubin and Daniel Salmieri, and the Seibert award-winning Electric Ben by Robert Byrd (all published by Dial Books for Young Readers). Jason is the founder of Books Beyond Borders, a nonprofit community project that has donated thousands of books to schools around the world. He and his wife live in Hoboken, NJ. Learn more at jasonhenrybooks.com, and follow him @jasonhenrybooks.