The Her Campus Guide to College Life: How to Manage Relationships, Stay Safe and Healthy, Handle Stress, and Have the Best Years of Your Life (Paperback)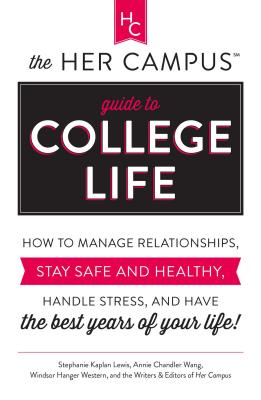 Hard to Find - May not be reprinted
Description
---
As seen on
The Today Show
"Some things are common sense, but some things aren't--especially when it comes to navigating a college campus in a way that's fun, independent and totally safe. This guide touches on everything from dating and studying, to making friends and joining clubs outside of class." --Today.com
From dating to internships--everything you need to know about college
Get ready for the best years of your life! Written by the experts behind Her Campus, this college guide is bursting with insider tips to help you navigate classes, relationships, and all your extracurriculars--including parties and Greek life. Whether you're a seasoned upperclassman or are starting freshman year in just a few months, you'll learn how to:
Bond with your roommate and set ground rules for your new space
Beat the Freshman 15 without having to give up dessert
Snag a date with the cutie from your Lit class
Cope with stress and anxiety--even during finals week!
Score jobs and internships that will help you transition into post-collegiette life
You'll also get the lowdown on campus safety so you can enjoy all that college has to offer while avoiding the unfortunate scary parts that sometimes come with it. Complete with fun checklists and worksheets to help you carry out HC's essential advice,
The Her Campus Guide to College Life
shows you how to make the most out of your experience--in and outside the classroom.
About the Author
---
Stephanie Kaplan Lewis is the author The Her Campus Guide to College Life. Her Campus is the #1 global community for college women with chapters at more than 250 colleges worldwide. In addition to its flagship site HerCampus.com, Her Campus also puts on conferences, events, and College Fashion Week, and has its own blogger network, high school ambassador program, and more. Her Campus has been recognized by Glamour, Forbes, and Bloomberg Businessweek.
Praise For…
---
"This book is the ultimate campus wingwoman! It guides you through the tricky situations of classes, parties and hook-ups so you'll never have to feel like a newbie!" --Ann Shoket, millennial expert and former editor-in-chief of Seventeen

"The Her Campus team writes a girlfriendy, honest, and fact-filled how-to covering everything from roommate relations to social media management. Colleges should be handing this out at orientation--it's the ultimate handbook to college life in 2015." --Chandra Turner, Founder and President of Ed2010

"I wish we'd had this kind of 'everything you need to know about college but were afraid to ask' when I was heading off to freshman fall. You think you know it all but this book points out the insider's guide to everything from safety (not a small issue) to spring break fun. It's a must-have for any graduating senior who has more questions than answers, but would not dare ask Mom and Dad. Leave it on her pillow, stuff it in her duffel, but make sure she packed it off to college, and refers back to it again and again." --Lucy Danziger, former editor-in-chief of SELF

"What every college-bound girl needs--an insider guide to the essentials of success and survival on campus--by three of the best big sisters you could have!" --Carley Roney, Founder of The Knot

"This excellent new book is perfect for any high school senior girl about to step onto the steep learning curve that is college. The tone...sounds more like wise advice from a wise older sister who is adept at navigating sticky situations with roommates, boyfriends, and professors.... This is one book that should be packed along with the XL sheets and shower caddy for the freshman dorm." --About.com

"This book takes you through literally anything you could ever think of in order to have the best college experience possible. Whether you're going to be a freshman or about to graduate, we can guarantee there's something in here for you that will significantly improve your time on campus." --Smart Girls Group