Ultimate Explorer Field Guide: Birds (Paperback)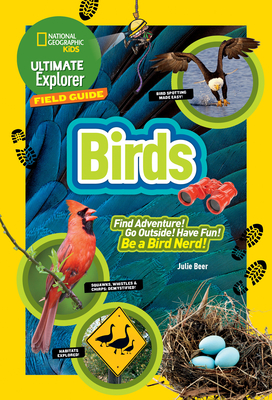 List Price: $12.99
Our Price: $7.00
(Save: $5.99 46%)
Description
---
This fun, photo-filled, and fact-packed bird guide will make kids Stop! Look! and Listen! to find the feathered friends right in their own backyards. From ducks to hawks, sparrows to sandpipers, kids will learn how, where, and when to spot birds all over the United States. With tons of info and interactivity prompts, it's the perfect companion for bakyard or field trip, camping or vacation. Durable and portable, it's just right for pocket or backpack
About the Author
---
Julie Beer is a freelance writer based in the San Francisco Bay Area. She's a longstanding researcher for National Geographic magazines and a regular contributor to NG books, including the NG Kids Encyclopedia of the United States and the Weird But True series.
Praise For…
---
"This is a perfect book for an aspiring bird nerd" -- Ithaca Child

"Brimming with 175 photographs and numerous tips for novice birdwatchers, this comprehensive but compact field guide offers basic information about birds. In fact, it provides all that is needed to begin the hobby of birding other than binoculars and a notebook." -- Literacy Worldwide


.