National Geographic Student Atlas of the World (Paperback)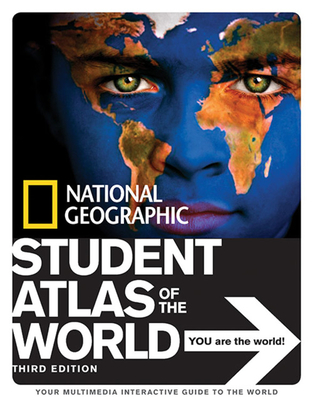 $12.95
Email or call for price.
Description
---
The third edition of the award-winning National Geographic Student Atlas of the World has everything for today's globally-minded student: new photographs and graphics of our changing planet, maps that reflect modern borders, and fully updated essays and statistics.Specially designed for middle- and high-school students, this compact, fact-filled atlas will put the world at your fingertips. The third edition of this perennial favorite is chockfull of maps, charts, and graphs, photographs, flags and facts--everything you need to help understand the world.You'll begin by learning about maps and how to read them. Then you'll explore the world's physical and human systems, including Earth's geologic history, natural vegetation, and world cultures. A stunning view from space introduces each continent, and full-page, full-color maps represent its physical and political make-up, its climate and precipitation, and its population and predominant economies. A vivid photo essay highlights an issue relevant to each continent, such as the European Union, or deforestation in the Amazon. Continuity of map sizes and scales encourages data comparison, which helps geography students to develop higher-level thinking skills.The National Geographic Student Atlas of the World is much more than maps. Weblink icons direct you to Internet sites to expand your knowledge and keep statistics up to date. The third edition of the award-winning National Geographic Student Atlas of the World is an invaluable resource and a must-have reference tool for libraries and homes everywhere.
About the Author
---
NATIONAL GEOGRAPHIC is one of the world's leading nonfiction publishers, proudly supporting the work of scientists, explorers, photographers, and authors, as well as publishing a diverse list of books that celebrate the world and all that is in it. National Geographic Books creates and distributes print and digital works that inspire, entertain, teach, and give readers access to a world of discovery and possibility on a wide range of nonfiction subjects from animals to travel, cartography to history, fun facts to moving stories. A portion of all National Geographic proceeds is used to fund exploration, conservation, and education through ongoing contributions to the work of the National Geographic Society.