Finding the Right Words: A Story of Literature, Grief, and the Brain (Hardcover)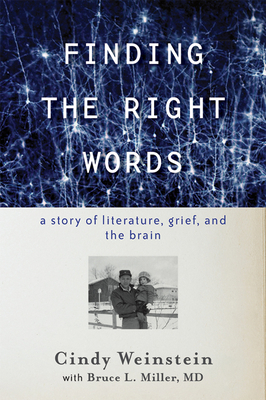 Description
---
The moving story of an English professor studying neurology in order to understand and come to terms with her father's death from Alzheimer's.
In 1985, when Cindy Weinstein was a graduate student at UC Berkeley, her beloved father, Jerry, was diagnosed with early-onset Alzheimer's disease. He was fifty-eight years old. Twelve years later, at age seventy, he died having lost all of his memories--along with his ability to read, write, and speak.
Finding the Right Words follows Weinstein's decades-long journey to come to terms with her father's dementia as both a daughter and an English professor. Although her lifelong love of language and literature gave her a way to talk about her grief, she realized that she also needed to learn more about the science of dementia to make sense of her father's death. To write her story, she collaborated with Dr. Bruce L. Miller, neurologist and director of the Memory and Aging Center at the University of California, San Francisco, combining personal memoir, literature, and the science and history of brain health into a unique, educational, and meditative work.
Finding the Right Words is an invaluable guide for families dealing with a life-changing diagnosis. In chapters of profound and sometimes humorous remembrance, Weinstein relies on literature to describe the shock of her father's diagnosis and his loss of language and identity. Writing in response to Weinstein's deeply personal narrative, Dr. Miller describes the neurological processes responsible for the symptoms displayed by her father. He also reflects upon his own personal and professional experiences. In a final chapter about memory, Weinstein is able to remember her father before the diagnosis, and Miller explains how the brain creates memories while sharing some of his own. Their two perspectives give readers a fuller understanding of Alzheimer's than any one voice could.
About the Author
---
Cindy Weinstein, PhD, is the Eli and Edythe Broad Professor of English at the California Institute of Technology. She is the author of Time, Tense, and American Literature: When is Now? Bruce L. Miller, MD, is the A.W. and Mary Margaret Clausen Distinguished Professor in Neurology at the University of California, San Francisco, where he is the director of the Memory and Aging Center and the codirector of the Global Brain Health Institute. He is the coeditor of The Behavioral Neurology of Dementia.