Search for Books
ABA Mobile Menu
Queer City: Gay London from the Romans to the Present Day (Hardcover)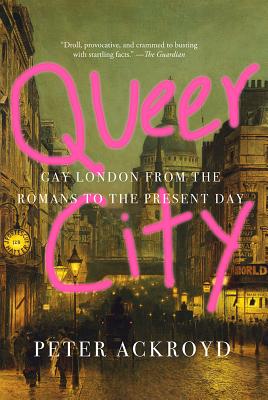 $26.00
Special Order from the publisher
About the Author
---
Peter Ackroyd is an award-winning historian, biographer, novelist, poet, and broadcaster. He is the author of the acclaimed nonfiction bestsellers London: The Biography, Thames, and London Under; biographies of figures including Charles Dickens, William Blake, and Alfred Hitchcock; and a multi-volume history of England. He has won the Whitbread Biography Award, the Guardian Fiction Prize, and the Somerset Maugham Award. He holds a CBE for services to literature and lives in London.
Praise For…
---
"Spanning centuries, the book is a fantastically researched project that is obviously close to the author's heart . . . An exciting look at London's queer history and a tribute to the 'various human worlds maintained in [the city's] diversity despite persecution, condemnation, and affliction.'"
— Kirkus Reviews
"[Ackroyd's] work is highly anecdotal and near encyclopedic . . . the book is fascinating in its careful exposition of the singularities—and commonalities—of gay life, both male and female. Ultimately it is, as he concludes, a celebration as well as a history."
— Booklist
"Queer City is a witty history-cum-tribute to gay London, from the Roman "wolf dens" through Oscar Wilde and Gay Pride marches to the present day."

— ShelfAwareness
"British historian Ackroyd presents a scintillating history of homosexuality in London."
— Publishers Weekly
"Always entertaining . . . much to be recommended."
— The Spectator
"A nimble, uproarious pocket history of sex in his beloved metropolis."
— Independent
"Ackroyd has an encyclopedic knowledge of London, and a poet's instinct for its strange, mesmerizing drives and urges . . . Queer City contains something to alarm or fascinate on every page."
— The Mail on Sunday
"Droll, provocative and crammed to busting with startling facts."
— The Guardian
"Succinct, perceptive and robust."
— Daily Telegraph