Ancient, Strange, and Lovely (The Dragon Chronicles) (Paperback)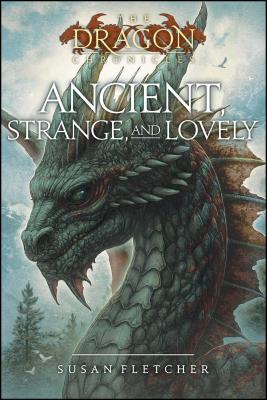 $12.99

NOT on our shelves - Usually Ships in 1-5 Days
Description
---
Bryn's world is out of kilter. Pollution is causing weird weather and diseases that her mom, a scientist, was working to fix. But Mom disappeared on a research expedition in Alaska, and now Dad has gone off to find her. At least Bryn gets some comfort from kenning with her bird—though that ability makes her weird as well.

Things get seismic strange when Bryn discovers a huge egg in a box of her mother's stuff—and it's hatching. What emerges is a big baby lizard, and Bryn can sense its feelings, as she can with birds.

Bryn guesses the lizard is a cryptid—an ancient species thought to be extinct. That makes it valuable to black market poachers, and maybe valuable to her mom's work as well. Bryn is determined to keep the creature safe. But it's not easy to secretly raise a cryptid baby, especially when it starts to flame. For what Bryn really has is a baby dragon, a dracling. The poachers will be after her for sure. But what does it mean that Bryn can ken with it? Is she meant to protect it? How far will Bryn go to save what might be the last of its kind?
About the Author
---
Susan Fletcher is the acclaimed author of Journey of the Pale Bear; as well as the Dragon Chronicles, composed of Dragon's Milk, Flight of the Dragon Kyn, Sign of the Dove, and Ancient, Strange, and Lovely; and the award-winning Alphabet of Dreams, Shadow Spinner, Walk Across the Sea, and Falcon in the Glass. Ms. Fletcher lives in Bryan, Texas. Visit her at Susan Fletcher.com.
Praise For…
---
"An intelligent and wryly humorous fantasy." - Horn Book