The Bear and the Nightingale (Large Print / Hardcover)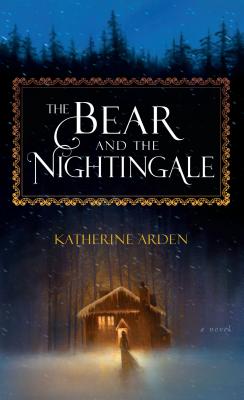 $39.67

NOT on our shelves - Usually Ships in 1-5 Days
Staff Reviews
---
I read a few pages and then this shot straight to the top of my reading list! Katherine Arden has created a beautiful, fantastical version of historical Russia, weaving in the traditional folklore and legends of Russia with real historical figures. The characters were charming, and their dilemmas were powerful and affecting. I'll be eagerly waiting for anything else Katherine Arden writes.
— Genevieve
January 2017 Indie Next List
---
"The Bear and the Nightingale is an enchanting mix of fairy tale, fantasy, and historical fiction set in medieval Russia. Nestled between the northern wilderness and civilization is a village where old and new traditions live side by side. Vasya, the last daughter of Pyotr and Marina, is born on the howling winds of autumn. Different from the others in her village, she is destined to be like her grandmother and is gifted with powers by birthright. As time goes by, Vasya is tested. Caught in the conflict between the old spirits and the new religion, Vasya must do everything in her power to save her family and village. Arden's novel is the rich, mesmerizing fairy tale you've been waiting for!"
— Jennifer Steele (E), Boswell Book Company, Milwaukee, WI
Description
---
A magical debut novel for readers ofNaomi Novik sUprooted, Erin Morgenstern sThe Night Circus, and Neil Gaiman's myth-rich fantasies, The Bear and the Nightingale spins an irresistible spell as it announces the arrival of a singular talent with a gorgeous voice.

At the edge of the Russian wilderness, winter lasts most of the year and the snowdrifts grow taller than houses. But Vasilisa doesn t mind she spends the winter nights huddled around the embers of a fire with her beloved siblings, listening to her nurse's fairy tales. Above all, she loves the chilling story of Frost, the blue-eyed winter demon, who appears in the frigid night to claim unwary souls. Wise Russians fear him, her nurse says, and honor the spirits of house and yard and forest that protect their homes from evil.
After Vasilisa's mother dies, her father goes to Moscow and brings home a new wife. Fiercely devout, city-bred, Vasilisa's new stepmother forbids her family from honoring the household spirits. The family acquiesces, but Vasilisa is frightened, sensing that more hinges upon their rituals than anyone knows.
And indeed, crops begin to fail, evil creatures of the forest creep nearer, and misfortune stalks the village. All the while, Vasilisa's stepmother grows ever harsher in her determination to groom her rebellious stepdaughter for either marriage or confinement in a convent.
As danger circles nearer, Vasilisa must defy even the people she loves and call on dangerous gifts she has long concealed this, in order to protect her family from a threat that seems to have stepped from her nurse's most frightening tales.
Advance praise for The Bear and the Nightingale
An extraordinary retelling of a very old tale . . . A Russian setting adds unfamiliar spice to the story of a young woman who does not rebel against the limits of her role in her culture so much as transcend them. The Bear and the Nightingale is a wonderfully layered novel of family and the harsh wonders of deep winter magic. Robin Hobb
A beautiful deep-winter story, full of magic and monsters and the sharp edges of growing up. Naomi Novik

Haunting and lyrical, The Bear and the Nightingale tugs at the heart and quickens the pulse.I can t wait for her next book. Terry Brooks
The Bear and the Nightingale is a marvelous trip into an ancient Russia where magic is a part of everyday life. Todd McCaffrey
Enthralling and enchanting I literally couldn t put it down. A wondrous book Tamora Pierce

About the Author
---
Born in Austin, Texas, Katherine Arden spent her junior year of high school in Rennes, France. Following her acceptance to Middlebury College in Vermont, she deferred enrollment for a year in order to live and study in Moscow. At Middlebury, she specialized in French and Russian literature. After receiving her BA, she moved to Maui, Hawaii, where she worked every kind of odd job imaginable, from grant writing and making crepesto serving as a personal tour guide. After a year on the island, she moved to Briancon, France, and spent nine months teaching. She then returned to Maui, stayed, got restless, and left again to wander. Currently she lives in Vermont, but really, you never know."