Designing Destiny: Heartfulness Practices to Find Your Purpose and Fulfill Your Potential (Paperback)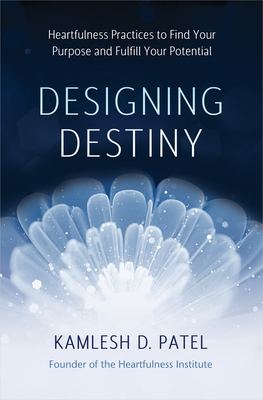 $14.99

If not in stock, we can Special Order from the publisher
Description
---
International best-selling author and spiritual guide Kamlesh D. Patel explains how to use the spiritual practices of Heartfulness to expand your consciousness, evolve your mind, find true happiness, and live your purpose.

What does destiny mean in the course of our lives? What is fixed and what can we change?

We create our destiny, step-by-step, through the journey of life. Every choice leads us in a certain direction-either toward or away from our life's purpose. We can learn to become purposeful architects of our fate with the practices and lifestyle changes described by Kamlesh D. Patel, founder of the Heartfulness Institute and fourth spiritual guide of this global movement.

In Designing Destiny, you will discover:

o A practical approach to the fundamental principles of destiny
o The four core practices of Heartfulness-relaxation, meditation, cleaning, and prayer-that will expand your consciousness from mundane to divine
o The lifestyle changes that lead to true happiness
o How to transform your relationships and raise the vibration of our communities
o How to progress through the levels of evolution through spiritual practice

Heartfulness offers a simple, scientific approach to expand our consciousness, realize our full human potential, and live a purposeful life. As our lifestyle evolves, our ability to design our own destiny-and that of the world-becomes natural and effortless.
About the Author
---
Known widely as Daaji, Kamlesh D. Patel has been a student of spirituality all his life. He is interested in sharing his learnings from his personal experience on the path of Heartfulness, while reflecting his deep spirit of inquiry and respect for the world's great spiritual traditions and scientific advancements.

Daaji practiced pharmacy in New York City for over three decades before being named the successor in a century-old lineage of spiritual masters. He is the fourth and current Heartfulness Guide, fulfilling the many duties of a modern-day teacher of yogic meditation and purposeful living.

Today he extends his support to spiritual seekers everywhere, sharing yogic Transmission with one and all, so that even novices can experience the effects of meditation. This Transmission is a special feature of Heartfulness, which makes this system so effective. He also devotes much of his time and energy to research in the field of consciousness and spirituality, approaching the subject with scientific methodology-a practical approach that stems from his own experience and mastery in the field. Connect with him and the Heartfulness Institute at www.heartfulness.org and www.daaji.org.